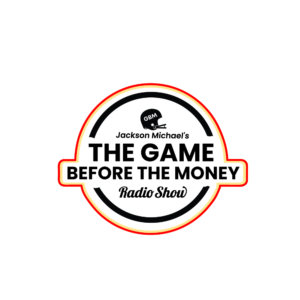 The popular football history podcast is a national radio show this football season! Airing Saturdays from 11am-Noon Eastern/10-11 am Central on the SportsMap Radio Network. Connecting the past, present and future of pro and college football.
Listen to previous episodes:
January 28, 2023
Jackson looks at the AFC and NFC Championship Games. Interviews with Pro Football Hall of Famer Carl Eller, Broncos two-time Super Bowl winner Dan Neil, and former Colts and Patriots executive Upton Bell.
January 21, 2023
Jackson correctly predicts who will appear in the AFC Championship Game. He also gives an in-depth look at the Dallas Cowboys and San Francisco 49ers playoff rivalry. Former NFL executive Upton Bell provides deep analysis into the NFL Divisional Playoffs.
January 14, 2023
Review of College Football National Championship Game. Jackson looks at NFL Playoffs and why the Bills aren't a good pick to win the AFC. Interviews with NFL legends Gregg Bingham and Chuck Foreman.
January 7, 2023
A preview of the College Football National Championship. Former NFL executive Upton Bell gives perspective about Damar Hamlin's injury.
December 31, 2022
Jackson tells listeners what to watch for in the College Football Playoff. Plus, a recap of great episodes from The Game Before the Money Podcast featuring interviews with several NFL legends including Hall of Famer Dave Wilcox, Broncos legend Karl Mecklenburg, and Ravens legend Matt Birk.
December 24, 2022
Remembering Franco Harris and the Immaculate Reception. San Francisco 49ers legend Randy Cross talks about "The Catch" in the 1981 NFC Championship Game and his Super Bowl memories.
December 17, 2022
Interview with Pittsburgh Steelers Hall of Famer Dermontti Dawson. Jackson looks at the NFL schedule and goes over this year's college football awards. He had predicted many award finalists before the season started.
December 10, 2022
Jackson interviews Hall of Fame Chargers quarterback Dan Fouts. He also previews the Army-Navy Game and gives a brief history of the rivalry.
December 3, 2022
Jackson correctly predicts that Georgia will win the national championship. He also interviews legendary NFL referee Jim Tunney and looks at the week's NFL schedule.
Select Previous Radio Shows via RSS Feed
RSS Error: A feed could not be found at `https://audioboom.com/channels/5080775`; the status code is `403` and content-type is `text/html; charset=utf-8`
More Great Content on The Game Before the Money Podcast