Walt Garrison played running back for the Dallas Cowboys while Tom Landry was their head coach. He played in Super Bowl V and Super Bowl VI.
Walt Garrison was noted as one of the NFL's toughest players. He played in the 1970 NFC Championship with a broken collarbone. He competed in the professional rodeo circuit during the off-season and is often referred to as, "The Cowboys' Cowboy." Not only was he regarded as one of the NFL's toughest players, he remains a very popular player in Dallas Cowboys history, not only to Cowboys fans but even to NFL fans of rival teams.
WALT GARRISON'S HOMETOWN AND CHILDHOOD
Walt Garrison grew up in Lewisville, Texas. He dreamed of becoming a professional rodeo rider. His favorite rodeo stars included Jim Shoulders, Harley May, and Dean Oliver.
In the football history book The Game before the Money: Voices of the Men Who Built the NFL, Garrison stated that his small high school had sports teams only in football, basketball, track, and baseball. He added that everyone played because there weren't very many students. He also was on the rodeo team.
Embed from Getty Images
WALT GARRISON OKLAHOMA STATE CAREER
Walt was offered a football scholarship at Oklahoma State and a rodeo scholarship at a junior college. He said that he wanted to go to junior college for rodeo but his father convinced him that four years of education was better than the two that the junior college offered.
Walt enrolled at Oklahoma State. Sammy Baugh was Garrison's freshman football coach. Walt Garrison played linebacker his freshman year, as he had done in high school.
Hear NFL and college football legends share their stories! Subscribe to our football history podcast! The Game before the Money Podcast is available on your favorite listening platform, including on Apple Podcasts, iHeartRadio, Spotify, Stitcher, and Google Play.
Oklahoma State then hired Phil Cutchin as its varsity head coach. Cutchin was a former assistant to Bear Bryant at Alabama and Texas A&M (as an assistant coach for the famed Junction Boys team). He also played for Bryant at Kentucky. Cutchin put Oklahoma State players through rigorous practices and many quit the team. Walt's father told him it was okay if he was cut from the team if he wasn't good enough but warned him not to quit.
Cutchin moved Garrison to running back. The move proved fruitful. Garrison averaged over 6 yards per carry during his sophomore season which landed him sixth on the NCAA charts in that category. Garrison led the Big 8 in rushing his junior year and racked up over 900 yards rushing in his senior season.
WALT GARRISON DALLAS COWBOYS NFL CAREER
The Dallas Cowboys drafted Walt Garrison in the 5th round of the 1966 NFL Draft. The Kansas City Chiefs drafted him in the 17th round of the 1966 AFL Draft. Garrison signed with the Cowboys and negotiated a horse trailer as part of his contract.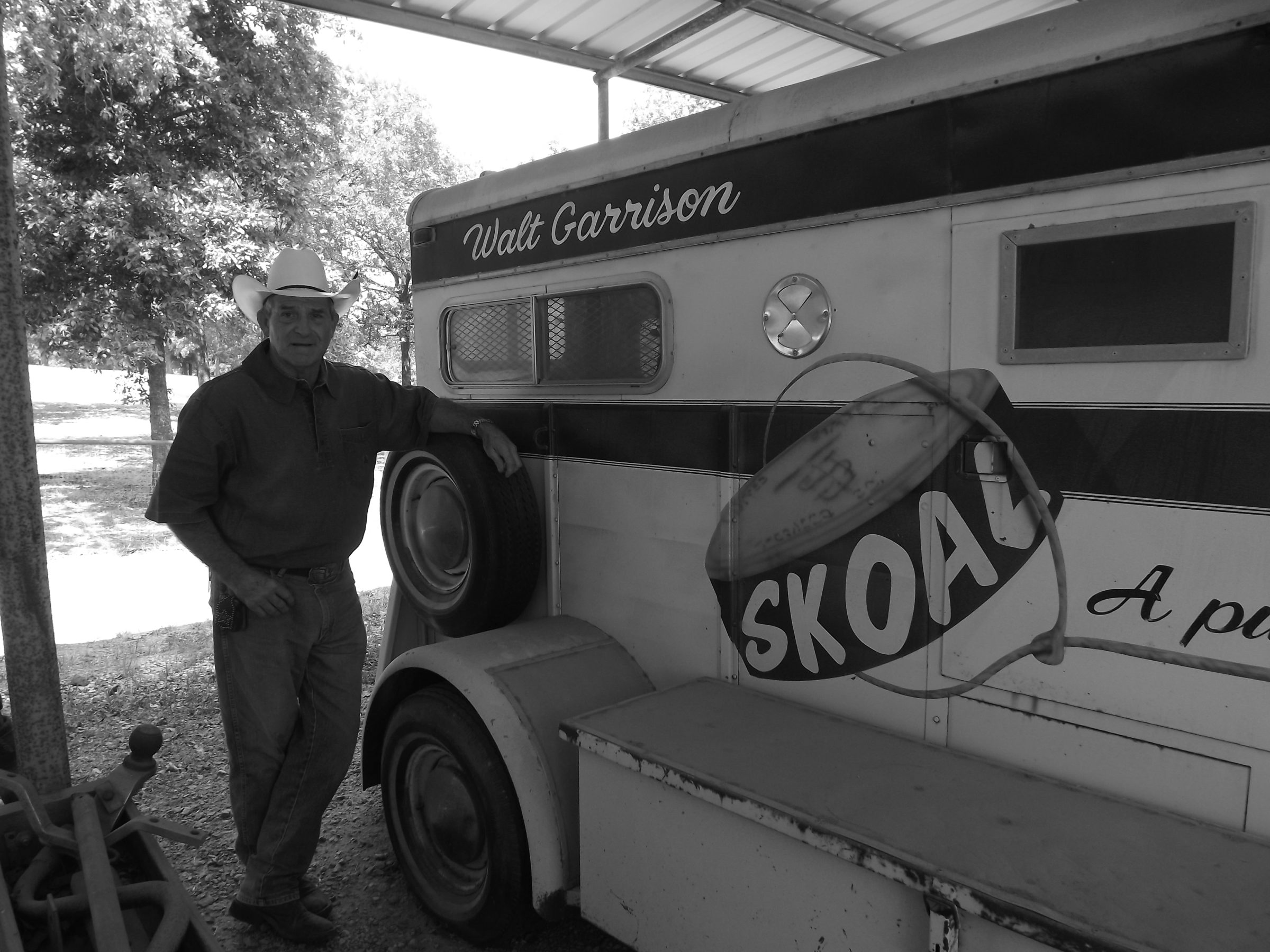 Walt made the team as a special teams player and served largely in that capacity in his first two seasons. He later proved a valuable rushing, receiving, and blocking asset for coach Tom Landry. Walt credited Cowboys veteran running back Don Perkins for teaching him how to succeed at the pro level. He said that Perkins taught him how to tell which way a defensive player might go by the way he placed his hands and feet before the snap. (Garrison goes into detail about this in the football history book The Game before the Money). Garrison told me that his experience with Perkins inspired him teach Robert Newhouse what he learned after Newhouse joined the Cowboys late in Garrison's career.
Garrison played a strong role in both Super Bowls he played in and led the Cowboys in rushing in Super Bowl 5. He netted over 80 yards rushing and receiving in each Super Bowl. He won a Super Bowl ring with the Cowboys in Super Bowl 6 and made the Pro Bowl in 1972.
Garrison earned a reputation as a tough and dependable teammate. Those attributes also made him a fan favorite. He finished 3rd in the NFL in yards per carry in 1969 and 6th in that category in 1972. His career average of 4.3 places him well within the Top 100 of all-time in that category. He stands tied in that category with Hall of Famers Tony Dorsett, Earl Campbell, and Marshall Faulk.
Garrison could be described as a "nuts and bolts" or a "sum greater than its parts" type of player.
WALT GARRISON LEGACY AND OFF-THE-FIELD
Embed from Getty Images
Walt continued to rodeo long after his football playing days. He also stands well-known and respected in that sport and was inducted into the Pro Rodeo Hall of Fame. Garrison also became well-known in television commercials for Skoal and Dodge. He says that he's never endorsed a product that he didn't use himself.
Walt Garrison was also inducted into the Texas Sports Hall of Fame in 2013 and joined several of his Cowboys teammates including Bob Lilly, Lee Roy Jordan, Mel Renfro, Bob Hayes, and his Cowboys roommate, Dan Reeves. You can read more about Dan Reeves here.
WALT GARRISON NFL CAREER STATS AND BIO
Played in two Super Bowls with the Dallas Cowboys
Won Super Bowl VI with the Dallas Cowboys
Recognized as a tough player and great teammate
Excellent blocker as well as rusher
Made 1972 NFC Pro Bowl roster
Walt Garrison and over 35 more NFL legends share their stories! Check out the book: The Game Before the Money: Voices of the Men Who Built the NFL available at — Amazon.com – Barnes and Noble – University of Nebraska Press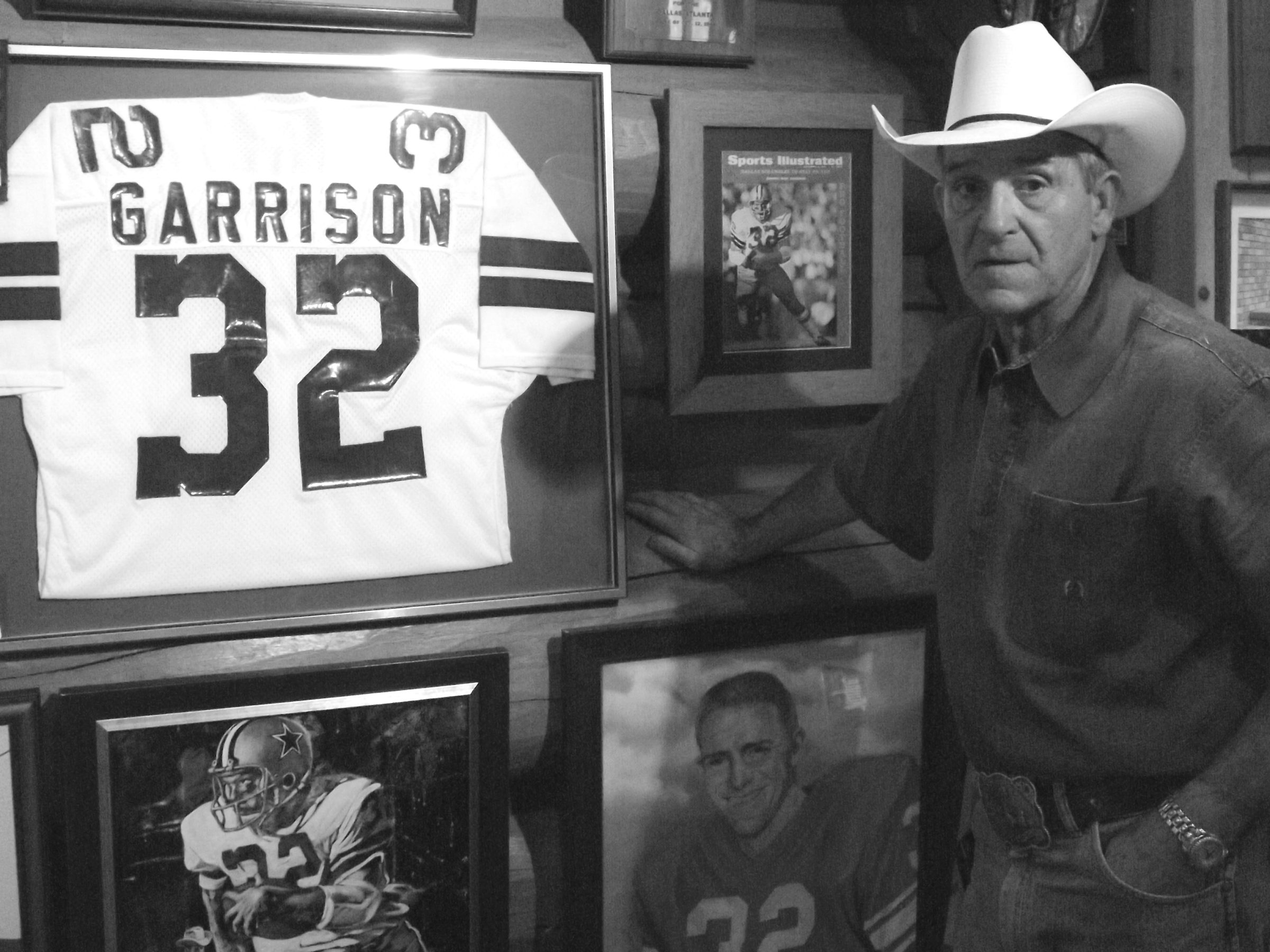 HEAR WALT GARRISON ON THE GAME BEFORE THE MONEY PODCAST
Embed from Getty Images