Warren Moon discussed his decision to play in Canada for the Edmonton Eskimos on an episode of the Texas Sports Hall of Fame Podcast. His Canadian Football League career started in 1978. Moon first played in the NFL in 1984.
Why Wasn't Warren Moon Drafted?
Warren Moon is often noted as one of the greatest NFL players who wasn't drafted. He turned out to be one of the great quarterbacks in NFL history. Although Moon had an excellent college career at Washington and led the Huskies to a Rose Bowl victory, most NFL teams still didn't African American quarterbacks much of a chance.
If I wasn't going to get that opportunity (to play quarterback), then I was ready to give up football."

Warren Moon — The Texas Sports Hall of Fame Podcast
Moon talked about the time leading up to the 1978 NFL Draft. He said NFL teams told him one of two things: "We're going to change your position, or we don't know if you'll be drafted as a quarterback. If you do, it might be the 11th or 12th round."
The 1978 NFL Draft lasted 12 rounds. Moon was being told that if he were drafted as a quarterback, it would be in the very last rounds.
If you ever saw Warren Moon play, then it's impossible to imagine him at any other position than quarterback. His passes are some of the most beautiful the game has ever seen. Changing positions wasn't an option for Moon. He believed he was born to play quarterback.
Instead of waiting to see when and if he would be drafted, Moon took the ball into his own hands. He signed a contract with the CFL's Edmonton Eskimos before the 1978 NFL Draft took place.
Was Ready to Go to Law School
Moon said he decided he would play quarterback or no football at all.
"I was going to go where people were going to give me the opportunity to play quarterback," Moon said on the Texas Sports Hall of Fame's sports history podcast. "If I wasn't going to get that opportunity, then I was going to give up football and maybe go to law school."
Warren Moon, CFL Quarterback
Thankfully, the CFL gave Moon the opportunity to play the position he was meant to play.
"I didn't know a whole lot about the league," Moon said. "But I did know that they were offering me the chance to play quarterback and they felt like I could be a star up there. They also felt like I could be a star in the NFL, and they didn't understand the reasons why the NFL wasn't giving me that chance."
Embed from Getty Images
Above: Photo of Warren Moon playing QB for the CFL's Edmonton Eskimos
Betting on Himself
Moon said that the decision to play football in Canada was a wager on himself.
"I decided to go to Canada and give up my dream of playing in the NFL and my dream of being drafted," Moon said. "But I was going to be taking a chance at a position that I knew I could play."
Warren Moon proved he could play quarterback and shattered professional records in the process. In 1982, he became the first pro quarterback to throw for 5,000 yards in a season. In 1983, he threw for over 5,600 yards. As of the end of the 2021 NFL season, no quarterback has thrown for that many yards in an NFL season.
NFL teams finally took note of Warren Moon's ability. The Houston Oilers signed him to play quarterback before the 1984 NFL season. He led the team to the playoffs seven straight times.
Despite playing in Canada for the first six years of his career, he still had one of the longest quarterbacking careers in NFL history. Not only that, he was third on the NFL's all-time passing yardage list when he retired after the 2000 season.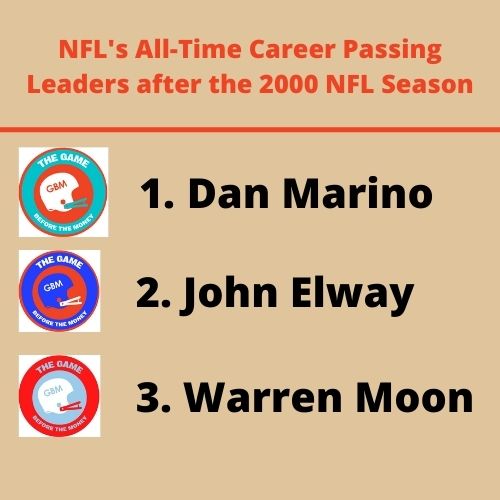 Embed from Getty Images