Who was Walt Garrison?
Walt Garrison was an excellent running back for the Dallas Cowboys and a pro rodeo star.
To me, he was also a good friend. I'm sure many people would say the same about him. He was a good friend to many people. In this post, I'll share a few great memories that I have of spending time with him.
I first met Walt at a Texas Sports Hall of Fame event in 2011, at the annual Bob Lilly Golf Classic. My friend Robert Hurst invited me after I told him about my idea to compile an oral history of former NFL players. Walt Garrison was one of three people I met at that event who would eventually interview for The Game Before the Money and thankfully become good friends – Elvin Bethea and Ken Houston being the other two.
Interviewing Walt Garrison
When I asked Walt if I could interview him for the oral history, he asked, "Who are you working for?" I told him that it was just me and that we could chat about whatever he wanted, I just wanted to document the stories that were most important to him. He was kind enough to let me come to his ranch to interview him.
At this point in my life, I was working as a professional musician and part-time in a copy center. I had no real credentials, didn't know anybody who had played pro football. I was just a lifelong football fan who thought it was important to preserve the personal stories of the people who helped build this game into what it is today. Still, Walt was generous enough to open his home to me and share some great stories from his life and career.
It took about 4-5 hours to drive from Austin to his home in Argyle, Texas. We just sat down at his kitchen table, turned the recorder on, and chatted for a couple of hours. And yes, it was as awesome as you could imagine. Walt was a great storyteller, and he had a unique perception of the world. I learned a lot about football from him, but I also learned a lot about life. He also was very funny.
Walt Garrison's Rookie Contract
He really enjoyed the chance to talk about his love of rodeo, and how would have accepted a rodeo scholarship at Wharton Junior College instead of his football scholarship at Oklahoma State if his dad hadn't convinced him that four years of a college education was a much better deal that the two years that Wharton Junior College offered. He also shared a great story about his first contract with the Cowboys, how Gil Brandt offered him a new Pontiac Grand Prix as part of the deal and Walt said that he also wanted an inline horse trailer thrown in.  Below is a picture of Walt and the horse trailer.

Walt Garrison's Ranch
After the interview, Walt showed me around his home. He showed me a lot of his Cowboys memorabilia, including a football signed by his teammate Don Meredith. Walt also had dozens of wood carvings that he'd done on display in his house. He also showed me a case full of pocket knives that his teammate Randy White had made. It really was incredible getting to spend the day with Walt. I also remember that Ralph Neely called in the middle of it all.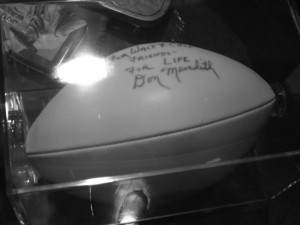 There was a very unique feature to Walt's ranch that I've never seen at anyone else's home. There was a railroad crossing on the property. He had a very long driveway and after you turned in, you at one point had to stop at a railroad track and look to make sure there wasn't a train coming.
Dallas Cowboys Training Camp Stories
Walt continued to share a few stories with me after the recorder was turned off. One great one was about his first training camp with the Cowboys. It was about a special teams play during a team scrimmage. Back then, even stars played on special teams. They were practicing a kickoff and Walt said he saw Bob Lilly running near him. Walt knocked Lilly to the ground on a block and said he was feeling really good about himself after that. On the next practice kickoff, Walt said that he just got crushed from out of nowhere. The great Bob Lilly had gotten his revenge on the young Walt Garrison.
He added a bit more about his rookie training camp. All of the rookies had to get up in front of the team and sing a song. Walt said he sang a Hank Williams song. He also mentioned that another guy refused to sing, and he was cut.
Walt also added that sometimes Willie Nelson and Don Meredith would get together and sing songs. Meredith once even cut a single that came out on 45.
Dallas Cowboys Friendships
Lilly and Garrison soon became great friends. Walt told me that all of the old guard Cowboys bonded and became close friends and stayed that way decades after their football careers ended. I witnessed it firsthand when Neely called Walt while I was there. I had also seen it at the Texas Sports Hall of Fame, with Walt, Billy Joe DuPree, Bob Lilly, and Mel Renfro enjoying each other's company and friendship. That still continues today. I saw Lilly, DuPree, and Renfro at the Bob Lilly Golf Classic this past summer.
There's another great story about Walt that I'd like to share that doesn't really involve him as much. I got to chat with Jay Novacek. Novacek was a great tight end for the Cowboys during the 1990s. I knew that Novacek also was into rodeo, so I said, "I bet you and Walt Garrison are probably good friends through the Cowboys and rodeo."
Novacek said, "Hey, don't talk to me about Walt. We don't get along."
I was shocked for a second, because Walt was a real easy-going guy who seemed very easy to get along with. I felt a little uneasy for bringing that up.
After a few seconds though, Novacek struggled to contain his laughter and then broke out into a full laugh. "I'm just messing with you, man. I love Walt. He and I are good friends."
I laughed along with him, somewhat relieved. But that really was true. Walt became good friends with so many people.
I Am Second
That was important to Walt Garrison. I remember on the day I first went up to his ranch, he wore a rubber bracelet around his wrist that said, "I am second," a symbol of putting God first in life. Walt was a star in football, in rodeo, and in television commercials. However, he still was a very humble person who enjoyed helping others.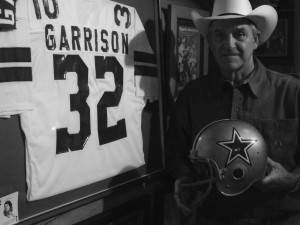 Walt Garrison and Dan Reeves
Before I left, I followed my friend Robert Hurst's suggestion to ask Walt if he knew of anybody else who might like to interview for the project. He said, "Sure. Dan Reeves." Reeves had been his roommate with the Cowboys. He added that he couldn't give me Reeves' number but he would give him my number.
I pulled out a business card and handed it to Walt. I thought he'd probably call Dan Reeves at some point in the next few days. Instead, Walt pulled out his cell phone and dialed Reeves up right there in front of me.
"Frog," he said. "This is Pudding. Hey, would you please call my friend Michael Jackson? He wants to interview a lot of us old-timers for a book."
A couple of days later, Dan Reeves called me and we set up an interview. That was a great favor that Walt did for me.
I sent Walt a copy of the book after it was published I wrote, "Thanks for helping making a dream come true."
Dallas Cowboys Nicknames
Frog? Pudding?
Walt told me that the Cowboys had nicknames for each other. Reeves was called "Frog" because during a film session someone pointed out that Reeves looked like a frog as he lined up before a play.
Don Meredith gave Walt the nickname "Pudding." That story isn't really fit for print – it's one of those if you know it, then you know the humor behind it. Maybe it's kind of one of those you had to be there or hear it from somebody who was there to know it.
Remembering Walt Garrison
I got to come up and visit Walt another time at his ranch to take photos for the book. He shared a lot more stories, driving me around his ranch in a heavy-duty golf cart. We spoke on the phone several times as well. Most years I called him on his birthday to say hello. I'll always regret that I didn't get around to doing that on his birthday this year.
As I alluded to before, I learned a lot from Walt. He taught me how to look for the good and the positive more than I was accustomed to doing. He also had such a unique way of seeing things, and it was often very funny. Walt was a great football player, and people will always remember his toughness and dependability with the Dallas Cowboys. On top of that, he was an unforgettable person who likely made friends everywhere he went.
Right after the title page of the book, I placed a quote from Walt at the beginning. "When you leave, you got your friends and you got your memories. That's it. Hopefully, you cultivated both of them."
Walt Garrison did that in both football and in life.