The Southwest Conference Hall of Fame Induction brought hundreds to the Governor's Ballroom at the Austin Hilton. Inductees included four football players: Cotton Davidson of Baylor University, Eric Metcalf of the University of Texas, Bill Montgomery of Arkansas, and Dan Irons of Texas Tech. Other inductees included baseball's Jose Cruz, Jr. of Rice University and Lance Brown of TCU,  track stars Carol Lewis from the University of Houston and Curtis Mills of Texas A&M, and basketball standout Rick Herrscher of SMU. The attendees included many outstanding athletes supporting their family members, teammates, and friends. Among them were Carl Lewis, Earl Campbell, Nolan Ryan, and Jose Cruz, Sr.
Cotton Davidson.
Cotton Davidson quarterbacked a highly-ranked Baylor squad in the early 1950s, persuading Weeb Ewbank to make him the Baltimore Colts' first-round draft choice in 1954. Davidson described the Southwest Conference as a family. He said the closely-knit geographical region led to players playing against each other in high school, then becoming college teammates or continuing to compete as SWC rivals. The players came to know each other well through those years.
Cotton introduced his family, including his wife of 60 years. He then saluted his teammates and credited them for helping him achieve success in the NCAA and the professional ranks. "If you don't have good friends, you're in trouble," he stated.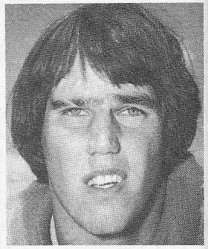 Dan Irons.
Dan Irons remembered growing up in Tyler, Texas, also Earl Campbell's hometown. "I remember you running over people in junior high just like you did for the rest of your career," he told Campbell during his speech.
Irons also recalled his father taking him to a Texas Tech football game. Future Super Bowl champion Donny Anderson inspired the young Irons. Dan told his father, "I want to be a running back at Texas Tech!" His father noted Dan's slowness and said, "I don't think that's going to happen. But if you work hard, you might wear the red and black someday."
Irons indeed wore the red and black, earning consensus first-team All-American honors at offensive tackle at Texas Tech. Perhaps the success harkens to one of his dad's sayings, "If you're going to compete, you might as well win."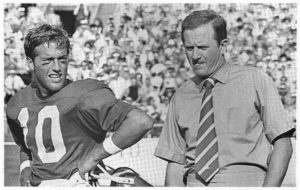 Bill Montgomery (shown with Coach Frank Broyles).
Arkansas quarterback Bill Montgomery set numerous school passing records during his tenure. "To clarify all those passing records — before I got there, Coach Broyles never threw the ball," he amusingly told the crowd.
Montgomery thanked Coach Broyles, who attended the gala. Montgomery's 91 year-old mother also attended, inspiring Montgomery to declare, "Razorbacks are tough."
Montgomery called all the players he played with and against champions. He said that other than faith and family, he'd give anything to play one more season in the Southwest Conference. He added that his dad would be proud to have his son in the same Hall of Fame as the player he admired most, Doak Walker.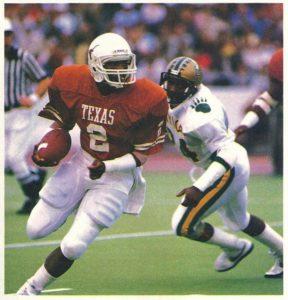 Eric Metcalf.
Eric Metcalf, well-known to football fans as a tremendous all-purpose back and kick returner, was also inducted to the Southwest Conference Hall of Fame for his track prowess. He said he wanted to be his father Terry Metcalf on the football field, and Carl Lewis in track. Metcalf fondly recalled having posters of many athletes on his wall as a youngster, and an entire wall dedicated to Lewis.
He acknowledged Earl Campbell as a great friend and mentor. Metcalf also conveyed his feelings about becoming a member of the Southwest Conference Hall of Fame. "We played for the love of the game," he said. "It's always a good feeling to be recognized."
The next post will be an exclusive interview with Eric Metcalf, recalling his college career and filling us in on what he's up to now. Below is college game film of Eric found on YouTube. The film leaves no mystery why the Browns made him their first-round draft pick in the famous 1989 NFL Draft.
NOTE: The Texas Sports Hall of Fame sponsors the Southwest Conference Hall of Fame.
Read Cotton Davidson's story, along with those of 14 Pro Football Hall of Famers and over 30 Pro Bowl stars in The Game before the Money: Voices of the Men Who Built the NFL.