The Southwest Conference Hall of Fame recently inducted Eric Metcalf, along with eight others. Eric excelled in both football and track for the University of Texas.
He followed his father Terry Metcalf's quick footsteps into the National Football League. The Cleveland Browns drafted Eric 13th overall in the legendary 1989 NFL Draft. He earned All-Pro honors twice, and made the Pro Bowl three times.
Eric, you grew up in a pro football environment. What did you learn from your dad that helped you succeed later on?
The hard work. A lot of people are very athletic and are able to play sports at any level. But I saw my dad — being as good as he was — still training like he had never done anything on the field. It was instilled in me that even though you have athletic ability, you still have to work to be the best. And you always want to be the best.
Watch an exceptional move by Eric at the :32 mark.
What colleges recruited you and why did you pick Texas?
Well, pretty much everybody recruited me. I took visits to Texas, Notre Dame, Georgia, Miami, and Nebraska. I committed to Miami. I didn't let Miami know until signing day that I wasn't actually going there.
My mom and dad didn't want me to go there. I would have been part of The U 30 for 30 on ESPN. That would have been during my time. My parents didn't want me to go there so ultimately I didn't go. I called all the other schools and said I didn't sign. Coach (Fred) Akers came back and I said I wanted to go to Texas.
Also, if I went to Miami, I would pretty much have to give up track, which I really didn't want to do. I wanted to play football at Miami because they were winning and had won the national championship. I came to Texas to play football and run track. Everything worked out great.
How did the two sports complement each other? Did playing one help you succeed in the other?
I think so, especially because I was a long jumper. If nothing else, the long jump taught me body control. Whether it be on the ground or in the air, I was still able to control my body.
It also taught me that I couldn't get hurt in spring ball. (Laughs.)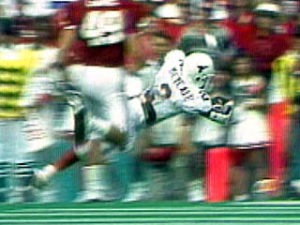 Conferences tend to have certain characteristics. How would you describe Southwest Conference football?
When I first came in, it was more smashmouth football, three yards and a cloud of dust. Then you had the University of Houston start with the Run-and-Shoot, and then Texas Tech. They were starting to throw the ball like they do today. The old school teams like Texas and Arkansas still ran the ball because that's what worked for them. That smashmouth football is what made the Southwest Conference what it was.
You experienced a head coaching change while at Texas. How did that affect you as a player?
It was tough at first. I love Coach Akers. I think the change would have been harder had (his successor) not been Coach (David) McWilliams because he was already at Texas when I first got there. He was our defensive coordinator. If it would have been somebody from somewhere else it probably would have been different. Under Coach McWilliams it was pretty much like being under the same coach.
It was great with both coaches. I love Coach Akers and Coach McWilliams. I had a great time with both coaches even though we didn't win that many games.
What are you up to now?
I coach track at the University of Washington — I coach the jumps. I coach a professional guy who runs the 400 and I do consulting with Nike Track and Field. Everything I do is in track and field. It's more fun.
Track you get to travel to Europe and travel the world. Also, you can really see if you've made someone better. If you're doing what you're supposed to do and the athlete's doing what they're supposed to do, once they step on that track you can really see it. Whereas when you're coaching football, I might be a good coach and he might be a good receiver or running back, but if he can't get the ball or doesn't have any blocking, you'll never know.
"One of the two or three most dangerous backs in the National Football League."
Watch Terry Metcalf's cut at about the 2:40 mark. Like father, like son?
READ THE STORIES OF 40 NFL LEGENDS IN THE GAME BEFORE THE MONEY.
NOTE: Minor edits were made for clarity.