(Starr painting by Robert Hurst)
Bart Starr Appreciation Part 1 located here.
Bart Starr remains the only quarterback to win 5 NFL championships. Tom Brady's closing in with four, and Otto Graham might have won 5 NFL championships had the Browns started in the NFL rather than the AAFC. Regardless, Starr stands alone with 5 rings, and is also the only quarterback to win 3 straight NFL championships.
Yet in the "Greatest of All-Time" discussion, many garner more attention. People often mention  Joe Montana, Johnny Unitas, Terry Bradshaw, and Peyton Manning first. Even quarterbacks without championships – Dan Marino comes to mind – often find themselves introduced into the conversation before Starr.
The situation isn't unusual to Starr. Although listed in the heritage of great Alabama quarterbacks, his college career differs greatly from Tide icons like Joe Namath and Ken Stabler. Starr played a considerable amount in his freshman and sophomore years, but an injury knocked him out of his entire junior season. Alabama hired a new coach for Bart's senior year. He promptly benched all the seniors in favor of players that would be around for another couple of years. Starr rode the pine through much of a 0-10 campaign.
While that might leave many frustrated and bitter, Starr moved forward. He stresses that the opportunity to attend Alabama and gain his education was a tremendous blessing. Rather than finger pointing, he prefers to encourage others to be resilient. "I think it's a strong whistleblower for those out there who read or hear those kinds of stories to note that if it happens to them, there are opportunities and ways to rebound and come back from something," he told The Game before the Money.
Starr rebounded by taking advantage of his opportunity with the Packers. As a 17th-round draft choice, simply making the team seemed remote. Starr, however, put in long hours to improve his shot. "I worked and trained harder than I'd ever done at any time in my life between the end of my senior year in college and first going to Green Bay."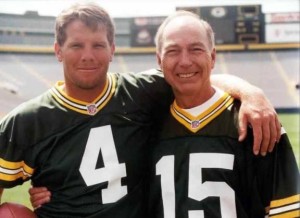 Bart is set to attend Brett Favre's number retirement ceremony on Thanksgiving.
Although Starr led the Packers to 5 championships, the 1967 NFL Championship (the Ice Bowl) stands his most recognized achievement. His leadership guided the Packers to victory through the tremendous adversity of sub-zero temperatures, a stout Cowboys front seven, and atrocious field conditions.
"You plan for what you'll do in certain down and distance situations, and at certain time elements in the game," Starr said. "We came down to the last few minutes, but the ground had become very unstable. That was a big factor in our play calling on that final game-winning drive….We tried a couple of end runs, and that's a good example of what we could not do."
The legendary Packer sweep on the shelf, Starr threw underneath the Dallas coverage to Donny Anderson and Chuck Mercein, as well as a toss over the middle to Boyd Dowler.
The Packers got near the goal line with time running out, but a couple of handoff attempts to Anderson left the running back slipping in the slick tundra, unable to make it to the line of scrimmage. Starr, needing to compensate for the slippery conditions, had an idea. "I told (Coach Vince Lombardi) that I was standing upright underneath the center, and I could shuffle my feet and then lunge into the end zone."
The plan removed several obstacles. Anderson wouldn't need to get out of a three-point stance and stay upright before getting the ball. Also, the call eliminated the chance of a fumbled exchange between the quarterback and halfback. Starr kept the ball and crossed over the goal line, giving the Packers a 21-17 victory and a trip to Super Bowl 2.
"We called a wedge play, with our right guard and center doubling, wedging on the defensive left tackle of the Cowboys," Starr explained. "We knew that play would work. We'd seen it. We ran it (the blocking formation) a couple of times earlier in the game and it gained a minimum of two yards."
Bart Starr might not be the statistical leader that Unitas, Marino, or Fran Tarkenton was. Bart, however, was an incomparable leader on the field, and scored high in characteristics the box score can't convey. From a challenging end to his college career to overcoming the Dallas Cowboys and the artic Wisconsin winter, Starr's resolve overcame impediments that crush ordinary men.
He sums it up while looking back at the adversity he overcame in college. "We need to be very, very strong and tough when we have to be."
You can have all the stat leaders you would like when the chips are down, but when I need the strongest, toughest quarterback for the game I most need to win, I'll take Bart Starr over anyone.
Listen to the Ice Bowl's final drive here.
The Game before the Money features stories from 40 NFL legends, including Bart Starr.
ORDER FROM AMAZON HERE (ALSO ON KINDLE)
ORDER FROM BARNES AND NOBLE HERE (ALSO ON NOOK)
ORDER WITH ROBERT HURST BART STARR ART PRINT HERE. ($50 — MAKES AN EXCELLENT GIFT!)