The Game Before the Money Podcast took a look at Lionel Taylor's time in the AFL with the Denver Broncos and his becoming the first player to grab 100 catches in a single season during Episode 58 of the football history podcast. 
First Player to Have 100 Receptions in Single Season
Lionel Taylor was the first player to make 100 catches in a single season. That was in 1961 with the Denver Broncos. To put into perspective how big of a deal-making 100 was: when Art Monk set an NFL record with 106 catches in 1984, he was only the third player in pro football history to have at least 100 catches in a season.
Embed from Getty Images
So while there were ten receivers who had at least 100 catches in the 2021 NFL season, for a long time that 100-catch benchmark set by Lionel Taylor was an extremely rare event. Remember that Taylor accomplished that feat in a 14-game season rather than the 16 games that receivers had from the late 1970s onward. In 2021, the NFL staged a 17-game regular-season.
Lionel Taylor's 1960 Season
Lionel Taylor is famous for his 1961 season, during which he became the first player to make 100 receptions in a single pro football season. In many ways, however, 1960 — his first year with the Broncos — might have been even more impressive. He missed the first two games of the 1960 season and still caught 92 passes to lead the league. That broke the all-time single-season receiving record set by Hall of Famer Tom Fears in 1950. And remember, Taylor missed the first two games of the season and still set the record! Lionel talked about that first season, "Yeah, the first year there was my best year I think I ever had."
The 1960 Broncos finished with a 4-9-1 record and finished last in the American Football League's West Division. Taylor led the AFL with that record-breaking tally of 92 receptions. He finished 3rd in the league in receiving yards (with over 1,200 yards) and finished tied for 2nd in touchdowns, despite missing two games. He averaged over 100 yards receiving per game, which placed him 2nd in the league in that category. As Lionel noted earlier, his first season with the Broncos might have been his best.
Embed from Getty Images
Breaking Records
The 1961 Broncos media guide stated that Taylor was, "Everybody's all-everything in the AFL in 1960." The media guide added that he, "Unquestionably has the greatest hands in football." Taylor already owned the single-season record for most catches in a season going into 1961. Taylor broke his own record in the 1961 season, grabbing exactly 100 catches, the first player in pro football history to attain that mark.
He went into the season's final week with 95 catches, as the Broncos went into Dallas to face the Dallas Texans (now known as the Kansas City Chiefs). Lionel says he wasn't thinking about reaching the century mark. He also said he was disappointed after the game as he could have wound up with even more receptions.
"I caught a couple of passes, and I goofed. I was so upset because we were losing, I threw the ball away. After catching I threw a forward lateral and that was a penalty, so they took the catch away. And I was fortunate to end up with 100 catches because I goofed a couple of times. I was just upset. And I think it was George Herring, who was the quarterback at the time (of the 100th catch). I didn't catch it from (Frank) Tripucka. I caught it from the guy by the name of George Herring. Never thought about catching 100 passes. Never did."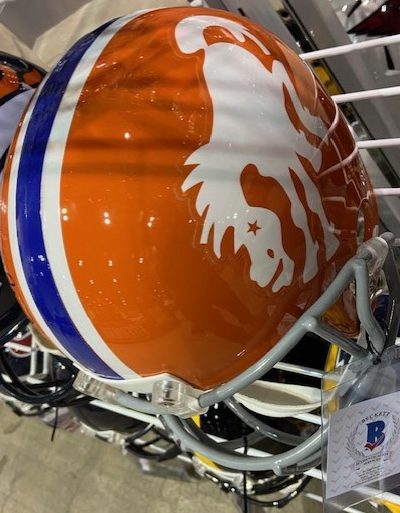 Hall of Fame Players
Only Lionel Taylor, Don Hutson, and Raymond Berry have led the league in receptions three years in a row. That is as of the 2021 season and includes every year of the NFL and AFL. As a side note, Mac Speedie of the Cleveland Browns led the AAFC in receptions for three seasons in a row. As a second side note, Don Hutson, Raymond Berry, and Mac Speedie are all in the Pro Football Hall of Fame. Lionel Taylor is still waiting his turn.
In five out of six seasons, Lionel Taylor led all of pro football in receptions. The only person to top that run is Don Hutson. Hutson led the NFL in receiving for five consecutive seasons and for six out of seven.
Embed from Getty Images
Looking for a great NFL history book? Check out The Game Before the Money: Voices of the Men Who Built the NFL available at — Amazon.com – Barnes and Noble – University of Nebraska Press
Like sports history? Listen to the Texas Sports Hall of Fame Podcast! Most episodes include stories from legendary Texas sports figures.