SENIOR NOMINEES
The Pro Football Hall of Fame announced two senior nominees for its 2016 induction class. The Seniors Committee, comprised of nine members on a rotating basis, selects the senior nominees. Nominees must be retired for at least 25 years.
We've discussed My recent post countered Peter King of Sports Illustrated, declaring Stabler as more than worthy. King, however, has an actual vote in the process, and it will be interesting to see whom the rest of the voters agree with.
Who else has three of the most iconic plays in history – the "Sea of Hands" game, the "Ghost to the Post," and the "Holy Roller" – to his quarterbacking credit? Stabler also almost nearly won the "Immaculate Reception" game with a 30-yard scramble to put the Raiders ahead 7-6 in the fourth quarter. Most arguments against Stabler tend to be statistically based. Here's a statistic to mull over: of the quarterbacks who rank in the Top 50 in all-time wins, only 6 top Stabler's .661 winning percentage: Roger Staubach, Terry Bradshaw, Joe Montana, Tom Brady, Ben Roethlisberger, and Peyton Manning. Bear in mind that Stabler's the only one in the bunch to play for the New Orleans Saints.
Dick Stanfel gets his third chance as the senior nominee, after denials in 1993 and 2012. He's a difficult case to figure out. Why would he be nominated a third time if the Senior Committee didn't fully believe he belonged? The flip side is he only played 7 years. He made All-Pro 5 of those seasons. He would have likely played longer, but it seems like he left the NFL for the same reasons Johnny Lujack early: he wanted to help his college coach (Joe Kuharich) as an assistant at Notre Dame. Stanfel had lagging injuries from WW2 and a terrible knee injury sustained in the 1951 College All-Star Game that required surgery and put him out his rookie season with the Lions.
He doesn't have any statistics from the guard position. He was, however, named MVP of a Lions team that won the 1953 NFL Championship and featured Bobby Layne at quarterback and Doak Walker. That would be like J.R. Sweezy named Seahawks MVP in 2013. In addition, Walker and Andy Robustelli rate Stanfel as one of the greats. If I were a voter, I'd view their opinion, along with the Senior Committee's, more valuable than my own personal guess and vote for Stanfel.
OTHER CANDIDATES
Unless the USFL makes a triumphant return with Donald Trump as commissioner, my biggest football surprise would be Brett Favre not making the Hall on his first ballot. His unquestionable worthiness as the only player to win 3 straight MVP awards and retiring as the QB wins leader, passing yards, passing touchdowns…we could go further if you'd like. Brett did some dumb things on and off the field – but he also was one of the most exciting and impactful players of the last 25 years.
Several finalists deserved entry last year, but the class was so strong that many deserving players have to wait. Kurt Warner is one guy that didn't make it in 2015, but should make it in the next year or two. John Lynch was one of the top safeties of his era, and another one of last year's finalists that should make it in a similar timeframe. I feel good adding Marvin Harrison and Orlando Pace to that same list.
Terrell Owens' eligibility begins this year. Here's a guy who put up legendary stats, and on paper looks like one of the greatest players of all-time. And yes, he had serious impact. But while a lot of people vote simply for statistics, I look for true contribution. What was Owens' contribution to pro football and his teams? Often, he contributed chaos, distractions, and selfishness. His two biggest highlights might be his game-winning touchdown against Green Bay in the waning moments in the 1998 NFC playoffs, and the image of him dancing on the star at Texas Stadium. Or the Sharpie incident. Or dumping popcorn on his face. There's a difference between celebrating the moment and disrespecting the game.
No question he was a tremendous player. His one shot at a Super Bowl, he had a great game for Philadelphia. Most advocates tout his second all-time receiving yards and other stats. I get that. But if Charlie Joiner and Don Maynard had to wait years to get in the Hall – after both retired as the NFL's all –time leading receiver – Owens should have to wait also.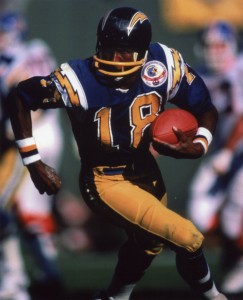 Charlie Joiner
A lot of internet buzz puts the Steelers Alan Faneca into the Hall next year, also his first year of eligibility. Again, to me there are the Hall of Famers. Then there are the first-ballot Hall of Famers. It's a completely different class. Here is a list of first ballot guards: Larry Allen, Forrest Gregg, John Hannah, Bruce Matthews, Jim Parker, and Gene Upshaw. Is Faneca in that category? In terms of Pro Bowl and All-Pro selections, he's actually quite comparable. Would I pick him over Parker, Allen, or Matthews? Certainly not, but he's a borderline first-ballot Hall of Famer to me, and if he makes it in 2016, I'm okay with that.
SUMMARY
Last year's robust Hall of Fame class left some very worthy players outside. At least one or two should get in this year. The Hall will likely also induct Brett Favre and Ken Stabler in my opinion. I wouldn't be surprised if the voters overlooked Dick Stanfel again.
Here is a look at who I voted for last year (as part of the fan vote), with a list of players I'd like to see get in eventually. What players would you like to see added to the Hall of Fame?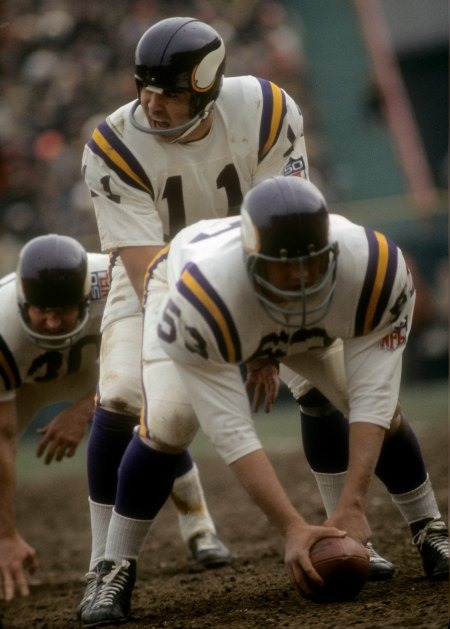 Click on Mick and Joe Kapp to see who I picked for the 2015 HOF Class