My first NFL memories involve during Super Bowl 11 and explained the meaning of the NFL's biggest day while Stabler led the Raiders to ultimate victory. The Holy Roller play remains a cherished memory, and one of the first epic plays I witnessed live on television.
Stabler helped characterize the 1970s NFL. His bearded face symbolizes Raider football. The Hall of Fame has yet to induct "The Snake," a position defended by Sports Illustrated writer and Hall of Fame voter Peter King.
Many fans, however, disagree. Count me in that group. King argues that statistics and career consistency don't land in Stabler's favor. I get that, and statistics play a huge part. Being great for 5 years is much different than being great for 10 or 15.
Yet we call it the "Hall of Fame." The moniker implies the word "famous," and nobody can deny #12's fame throughout his career. Similar to the old E.F. Hutton commercials, when Stabler played, people watched. His exciting play energized fans of rival teams. He stood both a beloved favorite and a "love to hate" guy. Fan favorite isn't a tallied in box scores, but in my humble opinion that should count for something on Hall of Fame ballots.
When I think of the top quarterbacks of the 1970s, three instantly come to mind: Terry Bradshaw, Roger Staubach, and Ken Stabler. After a few seconds Fran Tarkenton and Bob Griese pop in, but Stabler comes beforehand. Not saying that he's better than Tarkenton and Griese, but he's certainly in that class. All those other quarterbacks made the Hall.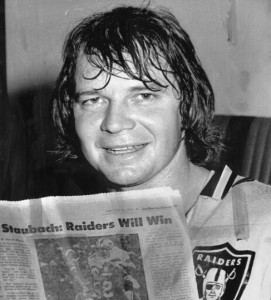 He doesn't fit in with Jim Hart, Joe Ferguson, Ken Anderson, Steve Bartkowski, Billy Kilmer, Ron Jaworski, and Steve Grogan, guys who had long careers but clearly aren't Hall of Famers. Like Stabler, those quarterbacks were the faces of their teams. Stabler, however, was one of the most recognizable figures in the entire league.
For that, he's clearly Hall of Fame material.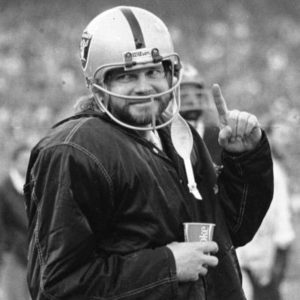 READ THE STORIES OF 40 NFL LEGENDS IN THE GAME BEFORE THE MONEY: VOICES OF THE MEN WHO BUILT THE NFL:
ORDER FROM AMAZON HERE (ALSO ON KINDLE)