I'll preface by saying I never saw Jim Brown play. I'm also too young to remember O.J. Simpson or Larry Csonka in their primes. I won't dig into statistics about yards per carry, adjusted yards per offensive line, or total yardage in games 34 degrees or cooler. Posts under the heading "Best I Remember" are simply that – the best players I personally remember. The category is completely subjective and based solely on my fading memory. Hopefully, it will be fun for you to compare your list. That said, let's run with it!
10. Roger Craig: We're not talking about his entire career, but for a few seasons Craig churned out yardage like a tiller working a garden. The first player I remember having 1,000 yards rushing and receiving in the same season. My goodness, he even led the NFL in receptions. What other running back can say that? Nobody. When I think of Roger Craig, I think of a guy heavily involved in seemingly every important drive while he played for Bill Walsh's 49ers.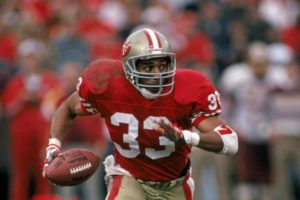 9. Adrian Peterson: The best in the game right now in my opinion. He'd by higher on the list if it wasn't for his fumbles, which he's pared down a smidge. He seems to be the entire Vikings offense every year. Very fun to watch in the open field that he bursts into often.
8. Eric Dickerson: Another guy who often found the open field. Dickerson and Peterson seem quite similar to me, although when I think of Dickerson I think more of his unique leg action. He seemed to gallop over the defense at times. Dickerson's strength impressed me over Peterson as well. But both very alike to me.
Like football history? Subscribe to The Game before the Money Podcast on your favorite listening platform, including on Apple Podcasts, iHeartRadio, Spotify, Stitcher, and Google Play.
7. LaDainian Tomlinson: So very consistent. Seemed to impact every game. Outstanding in the 7-15 yard range, plus he could pound the ball well. Was solid even late in his career with the Jets.
6. Marcus Allen: His runs were works of art. Few made running the ball look so beautiful. Super Bowl 18 was a prime example as his 5-yard touchdown was just as cool as the legendary reverse-field scamper.
5. Earl Campbell: As college teammate Doug English said in The Game before the Money, "It was unbe­lievable how fast his first three steps were." Moreover, few backs were as powerful. A good visual description of Campbell might be watching the wrecking ball that destroyed Ebbets Field. That's what Earl did to defenses.
4. Bo Jackson: Sometimes we'd play tackle football in 2nd grade. Occasionally a 5th grader 35 pounds heavier than us would play, and it took 3 of us to slow him down. Never once did one person tackle him. Such as it was to watch Bo Jackson. Only an injury could stop him. I didn't like the commercials he did nor how he called football his "hobby," but his dominant runs were jaw-dropping. What a shame his career was cut short. An incredible baseball player as well.
3. Barry Sanders: Number 1 on many people's list, and rightfully so. Nobody could juke like Sanders. His famous run against the Cowboys defines Barry; he could make people look stupid. Like Peterson and Dickerson, he was practically his entire team's offense.
2. Emmitt Smith: I don't remember anybody being able to run outside as well as Emmitt, and nobody could bounce off and around tacklers like he could. He also ran off-tackle amazingly well. Would have been a premier back even without his outside abilities.
1. Walter Payton: I see Walter in a lot of the backs listed. Dickerson's leg action. Barry's ability to make guys miss. Marcus Allen's grace. He was a composite of many of the great backs who came after him. You knew something special could happen each time Walter touched the ball. Heck, he was so thrilling to watch that you'd get excited when his brother Eddie Payton returned kickoffs for KC. I understand how one could rank him lower if you never saw him play. As someone who watched him as a youngster, however, nobody's ever made such an impression on me.
HONORABLE MENTION
People might put Marshall Faulk in their top 5, and I wouldn't argue. Thurman Thomas also barely missed the cut. Tony Dorsett was one of my favorite players as a kid. I missed Franco Harris' best years and never got to watch the great Jim Taylor. Shaun Alexander was a great back, and Matt Forte has had a stellar career thus far. I'm also a big fan of Frank Gore and Maurice Jones-Drew. Fred Taylor, in my opinion, would have gained far more recognition outside of Jacksonville. Christian Okoye seemed unstoppable at times.  Terrell Davis and Billy Sims were excellent, and comparable, players. A list featuring Jerome Bettis wouldn't garner my criticism.
This is merely the Top 10 of someone born in 1970, an American kid "Growin' up in the Heartland" as John Cougar would say. Back then, regional television coverage limited the players you saw until the playoffs, so the list might be different had I grown up elsewhere or in a different time.  How many of these runners make your Top 10?