We tracked down Bob Kahler a while back. At the time he was the last surviving member of the 1944 World Champion Green Bay Packers. He requested we asked questions via snail mail rather than by phone. True to his word, Mr. Kahler promptly wrote us back. Here are his responses in his own outstanding penmanship. (Click to view larger.)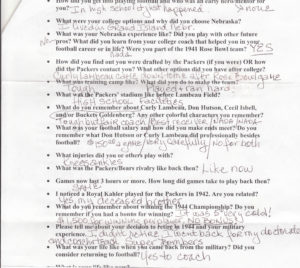 Perhaps Kahler's speed impressed Coach Lambeau. Bob set an American indoor record on the 70-yard low hurdles at Nebraska, making it to the finish line in 7.8 seconds.
The Packer's "high school facilities" paled in comparison to Nebraska's, but what perhaps surprised Bob most was the cigarette smoking in the Packer locker room. Even Don Hutson, whom Bob had the unfortunate assignment of covering during practice, puffed away.
Kahler, who was born in 1917, passed away in April of 2013 at the age of 96. He was one of only a handful of men alive who played for Curly Lambeau in Green Bay. Those Packers wore blue and gold uniforms, rather than the famed green and yellow.
Lambeau chose blue and gold to mimic the Notre Dame uniform he wore for one season. As a freshman, Lambeau shared backfield duties with George Gipp in 1918, Knute Rockne's first year as head coach. Lambeau might have had a storied college career were it not for a six-week bout with tonsillitis that prompted a return to his hometown of Green Bay. He accepted a job with the Indian Packing Company for $250 a month, and never returned to school.
Nolan Luhn told us that Coach Lambeau also approached him after the 1945 Orange Bowl. Lambeau promised Luhn that the Packers would draft him if he didn't sign with another team. Green Bay selected Nolan late in the 1945 NFL Draft. From what Kahler and Luhn have stated, it seems like Lambeau often attended college bowl games to scout and sign players.
You can read Nolan's story in The Game before the Money: Voices of the Men Who Built the NFL published by the University of Nebraska Press.