Warren Moon grew up in Los Angeles. It might seem like USC or UCLA might be an obvious choice for him to attend college, but Moon chose the University of Washington over USC. He spoke about his decision on the Texas Sports Hall of Fame Podcast.
QB Warren Moon
Warren Moon attended Alexander Hamilton High School in Los Angeles. He became the school's starting quarterback as a junior and was named All-City as a senior.
In the 1970s, many colleges shied away from having an African-American quarterback leading the team. Although schools were interested in him if he was willing to change positions, Moon held on to his dream to play quarterback, the position he felt he was meant to play. He played a year of junior college football.
"I played a year of junior college (because I) couldn't really get recruited as a quarterback. Everybody wanted to recruit me and change my position. I just wasn't willing to do that because I just felt I could play major college football, based off of what I had done in high school compared to my peers that were getting scholarships to play quarterback at other schools. And I felt like I deserved that same opportunity. But I also knew that the color of my skin had something to do with some of those decisions."
Why Warren Moon Didn't Play for USC
After that year of junior college excellence, he had offers to play quarterback at the Division I college level. He chose to play for the Washington Huskies. He also had a chance to play at USC, where Vince Evans was the quarterback.
Embed from Getty Images
"One of the reasons I didn't go to USC was because Vince was there as a senior, and I didn't want to redshirt after I'd already gone to junior college for a year. So, that's how much respect I had for him that I knew I probably couldn't beat him out. He went on to have a really good career in the NFL and also the USFL."
Warren Moon Plays Against Earl Campbell
Warren Moon accepted a scholarship to play quarterback at Washington. In September of 1975, the Huskies hosted a team with a player who also became one of Moon's fellow inductees in the Texas Sports Hall of Fame. Washington played against the Texas Longhorns featuring running back Earl Campbell.
"He ran over us that day. I don't know how many yards he had, but he was legitimate. We were in the same class. We came out the same year as seniors."
Earl Campbell had 198 yards against Washington and scored three touchdowns, as Texas won 28-10.
It's important to remember that Warren Moon and Earl Campbell were in the same class. Both were sophomores in 1975. Both were seniors in 1977. Each posted spectacular seasons as seniors and went to be elected to the Pro Football Hall of Fame after outstanding NFL careers.
Warren Moon Rose Bowl
Moon quarterbacked his team to the Rose Bowl, where they upset a heavily favored Michigan team that had visions of a national championship dancing in their heads. Warren says that his team was confident going into the game and were motivated by a few incidents that happened in the days leading up to the Rose Bowl.
"Well, it started way before the pregame. It started during the week of preparation for the game. We just didn't feel like we were getting any respect from the rest of the country. We were 17-point underdogs. The team had met the Michigan players at Disneyland, where you have your annual Disneyland visit, and they kind of snubbed their nose up to us."
"Rick Leach, their quarterback, didn't want to take a picture with me. They had their center be the one to take the promotional picture with me and Mickey Mouse and Minnie Mouse. And there's just a lot of little things like that that really inspired our football team. It just kind of gave us juice going into the game. We were a very confident bunch going in, and we had a chip on our shoulders, and we went out there and played like it."
Washington defeated Michigan 27-20. Moon won the Rose Bowl's most valuable player award.
Warren Moon and the NFL Draft
The Rose Bowl victory capped off a great senior campaign for Moon, who led Washington to the Pac-8 championship and first Rose Bowl appearance in well over a decade. He owned an outstanding college football quarterbacking resume as the 1978 NFL draft approached. He discussed his future options with his agent, Leigh Steinberg. Ultimately, Warren decided to sign with the Edmonton Eskimos of the Canadian Football League before the 1978 NFL draft even took place. Warren Moon spoke in depth about that decision for the Texas Sports Hall of Fame podcast.
Although Moon played six seasons in the CFL before the NFL, he retired with the third-most passing yards in NFL history. By the time Moon entered the NFL in 1984, Earl Campbell was in his second-to-last season in the league. Despite the two of them being in the same graduating class, Moon still finished his 17-year career as one of the NFL's all-time leading passers. However, he may have finished higher on the list had he played six more NFL seasons rather than starting his career in the CFL.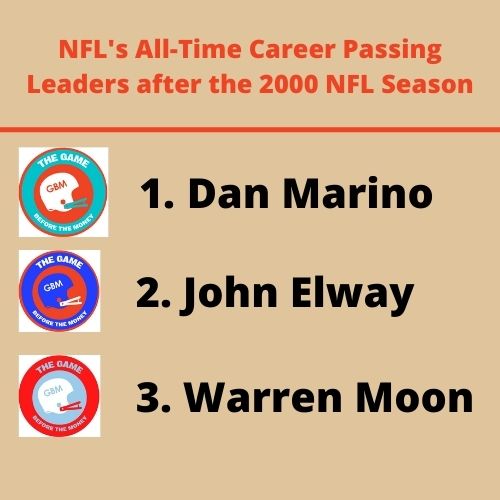 Hear More on The Texas Sports Hall of Fame Podcast: