Adrian Peterson grew up in Palestine, Texas, where he was a high school star in three sports, football, basketball, and track. Peterson next starred in football for the Oklahoma Sooners, rushing for nearly 2,000 yards in his freshman season and leading the Sooners to a berth in the national championship game. He was drafted by the Minnesota Vikings in the first round of the 2007 NFL Draft.
Embed from Getty Images
Why Did Adrian Peterson Go To Oklahoma
Peterson said that he often gets asked why he left the Lone Star State to play for the Oklahoma Sooners. He shared the reason why at the 2023 Texas Sports Hall of Fame Induction Banquet.
"The number one question I get is, 'Why did you go to Oklahoma? Why did you leave the state?'" Peterson noted during his induction speech.
He added that Texas originally was his first choice. "I tell them my uncle played with Priest (Holmes) and Ricky (Williams) and those guys. They were cold. I remember going to watch them play, sitting outside of the stadium waiting for my uncle to come out, and I'm like, 'I'll be back here one day.' I was Texas all the way."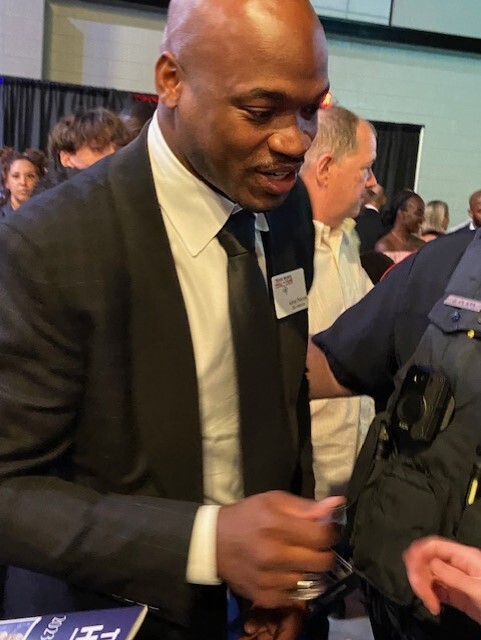 Coach Mack Brown and Cedric Benson
So why didn't Adrian Peterson go to Texas?
"For the people that find themselves being mad at me about going to Oklahoma, this is what I'll say: if you're going to be mad at anybody, be mad at coach Mack Brown. And this is why I say that: I sat in Coach Brown's office, and I asked him the same thing I asked everyone else."
Peterson illustrated what he asked each coach on his recruiting visits. "'Coach Stoops, will I have the opportunity to come in and compete?' 'Yeah, sure.' 'Pete Carroll, will I have the opportunity to come in and compete for the starting job if I come?' 'Yeah.'"
"'Mack Brown, if I come here, will I have the opportunity to come in and compete for the starting job?' He was like, 'Well, Adrian, you know, I'm not going to lie to you. You know, Cedric Benson, he decided to come back for his senior year. So, we're going to be loyal to him, and we're going to let him ride it out. But, after that, you can compete for it.' I said, 'Okay, I appreciate it.'"
That was the end of the conversation in Peterson's opinion. "And that was it. I never told him that I wasn't coming. But that was the decision that I made based off of that."
Comparing Cedric Benson With Adrian Peterson
It's important to remember Cedric Benson's college career and why Mack Brown might have said what he did. Benson rushed for over 1,300 yards as a junior and scored 22 touchdowns. He rushed for at least 1,000 yards in each of his four years at Texas. As a senior, Benson gained over 1,800 yards and scored 20 touchdowns. He was the fourth-overall pick in the 2005 NFL Draft.
Although Longhorn fans would have loved to have seen Adrian Peterson in burnt orange, it's understandable why Brown would stay loyal to him. Benson scored more touchdowns in his final two years at Texas than Peterson scored in his entire college career.
Benson's senior year and Peterson's freshman year are quite comparable. Despite the fact that Peterson finished second in Heisman voting and Benson sixth, Benson scored more touchdowns and had more yards from scrimmage in 2004.
Overall, Brown's decision to stay loyal and Peterson's decision to move on worked out great for all parties involved. Peterson had an outstanding career at Oklahoma. Benson was able to finish his brilliant career at Texas. Future Kansas City Chiefs star Jamaal Charles took over the lead running back position at Texas, and the Longhorns won the national championship in 2005.
Embed from Getty Images
Billy Sims from Texas to Oklahoma
Adrian Peterson wasn't the first great Texas high school running back to choose the University of Oklahoma over a Texas school. Heisman Trophy winner Billy Sims grew up in Hooks, Texas, about 175 miles from Peterson's hometown of Palestine. Sims shared his story about choosing Oklahoma over Texas here. He told us that he almost went to Baylor.
Embed from Getty Images
Hear More on The Texas Sports Hall of Fame Podcast: