Willie Roaf appeared on Episode 50 of the football history podcast "The Game Before the Money." The quotes are from the podcast.
Willie Roaf is one of the greatest offensive tackles in NFL history. He was drafted in the first round of the 1993 NFL Draft by the New Orleans Saints. Roaf was the first offensive lineman taken in the draft even though he went to a small school that had only entered Division 1 only a few years previously.
Willie Roaf Played College Football at Louisiana Tech
Although Louisiana Tech was new to Division 1 college football, the Bulldogs played a memorable game against Auburn in Willie's sophomore season. Auburn won by two points with the last second field goal, but Willie got on NFL scouts' radar with an exceptional game against fifth-ranked Auburn at the Tigers home field of Jordan-Hare Stadium. Louisiana Tech finished 8-3-1 that year and tied Maryland in the Independence Bowl.
Willie continued to improve and impress during his junior year, although he still wasn't ranked at the very top of his class as an NFL prospect. On The Game Before the Money Podcast, he talked about his NFL draft grade going into his senior season and how he worked his way into becoming the first offensive lineman selected in the 1993 NFL draft.
"I had a second-, third-round grade going into my senior year, and I committed to the Hula Bowl my junior year after my junior football season," Roaf said.
He added that he had to climb his way to the top of the NFL Draft ladder.
NFL Combine Helped Raised Interest
Roaf said, "At the time, Lincoln Kennedy was the man. Lincoln probably could have came out and went top five the year before with Steve Emtman and all the guys who came out after they won the Rose Bowl in '91, but he decided to come back. Lincoln was supposed to be the first lineman taken. And I ended up having a really good year. And he got banged up and I had a good combine. And then I went 8 (overall in the NFL Draft) and he went 9. I was the first lineman taken."
Lincoln Kennedy went to Washington and won the 1992 Rose Bowl with the Huskies, who finished 12-0 and split the national championship with Miami. Washington slipped to 9-3 during Kennedy's senior season, although he was named a consensus All-American. Louisiana Tech finished 5-6 that year and Roaf was also named a consensus All-American. Willie's outstanding performance against Alabama as a senior plus a solid NFL combine helped vault him over Kennedy in the draft.
Willie Roaf was inducted into the Pro Football Hall of Fame in 2012.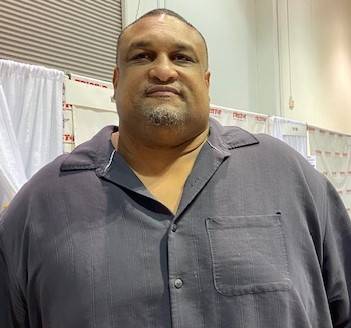 BELOW: Willie Roaf on draft day with NFL Commissioner Paul Tagliabue