An excited crowd of football fans congregated at BookPeople bookstore in Austin, Texas on November 13, 2014, celebrating the release of The Game before the Money: Voices of the Men Who Built the NFL, and relishing a chance to meet NFL All-Pro and College Football Hall of Fame inductee Doug English. English shared tremendous stories about his days at the University of Texas and his outstanding 10-year career with the Detroit Lions. Fans were given an opportunity to ask Doug questions, and a chance to purchase a copy of The Game before the Money autographed by English and author Jackson Michael (that's me).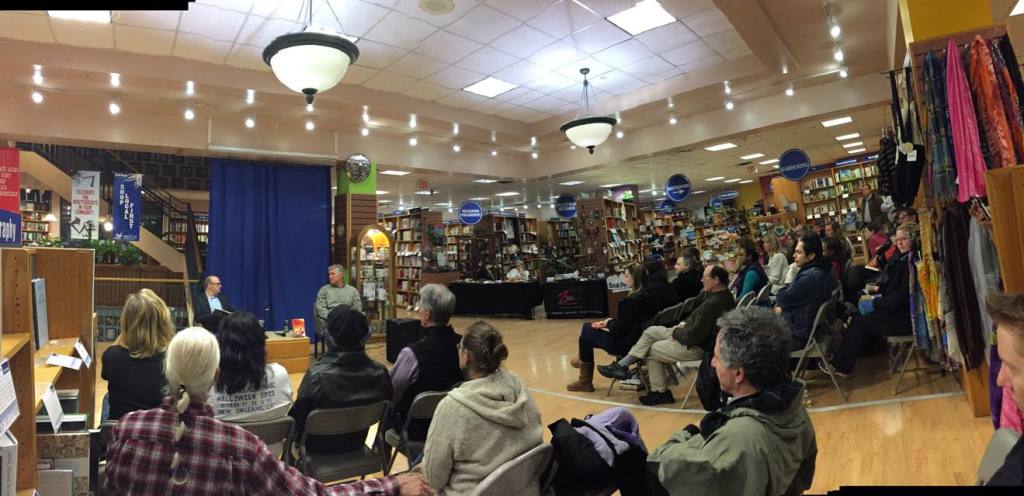 COLLEGE CAREER
English arrived at Texas in 1971, immediately after the Longhorns were voted national champions in back-to-back seasons. When asked what he learned from legendary Texas head coach Darrell Royal, English recalled a time that Royal pulled him aside to discuss Doug's on-field personality.
"Doug, you're a nice guy," Royal said. "You know what happens to nice guys? Not a damn thing."
English played meaner and earned All-American honors. His senior year, the Longhorns welcomed a freshman from Tyler, Texas, named Earl Campbell. "Coach Royal was looking for a way to get Earl on the field, and put him on the punt block team. He basically told Earl to line up over the ball and follow it."
Campbell was so quick, "he nearly beat the ball to the punter" in a game against Arkansas. The ball squirted loose, and English scooped it up. "I then took it all the way – about three steps," Doug amusingly stated about his only career touchdown. I pointed out that very few people could claim Earl Campbell helped get them into the end zone.
Texas Longhorn tradition dictated that English provide his teammates with a keg of beer on the day of the 1975 NFL Draft, for a "draft" party on Draft Day. English remembered waiting and waiting, disappointed that he'd been passed up for the first several rounds. A few friends prank called him, claiming to be Tom Landry or Gil Brandt of the Dallas Cowboys. After several hours, Doug's attorney finally got a hold of him to relay the news that the Detroit Lions selected Doug in the second round.
PRO CAREER WITH THE DETROIT LIONS "SILVER RUSH"
The audience asked several questions about Doug's NFL experience. When asked who the toughest running back to tackle was, Doug noted how Walter Payton kept pushing his legs until after you pinned him all the way to the ground. Conversely, John Riggins fought hard for the first five yards, but often eased up afterward.
Doug also addressed the touchy subject of steroids when asked. He stated that certain teams promoted a steroid culture. He recalled a friend being traded from the Lions, and later telling Doug about a knock on his door during training camp. The rest of the offensive line brought in vials of liquid, instructing their new teammate to take four on Monday, three on Tuesday, etc. Doug said steroid users could be easily identified by "big muscles and pimples." He also doubted their necessity in today's era of advanced training knowledge and athletes starting to train at a young age.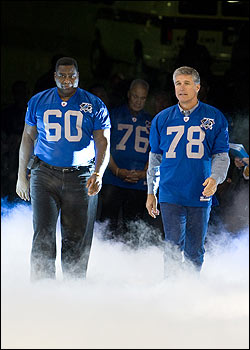 Al Baker (aka Bubba Baker) and Doug being honored in Detroit
Doug then told the story of his final NFL game – a contest against the Bears at Soldier Field. He suffered a spinal injury that doctors said probably would have paralyzed him had he stayed in the game like he wished. Doug lauded the Ford family, owners of the Lions, for providing him with a breakthrough surgery for the time which allows him to live pain-free from the incident. The fact the surgery wasn't available to most patients until many years later encouraged English to head the Lone Star Paralysis Foundation.
Doug concluded by expressing his feeling that America perhaps places too high of an importance on football and its athletes. He sees the only important part of football as making a difference off the field. He remembered being exhausted after a game, and after signing dozens of autographs, he finally made his way toward the locker room. A child asked him for one more autograph. While signing, Doug asked the child if he made good grades.  Doug later received a letter from the child's mother stating the boy's school performance greatly improved after meeting Doug. "It took me 15 seconds to make a difference," English said.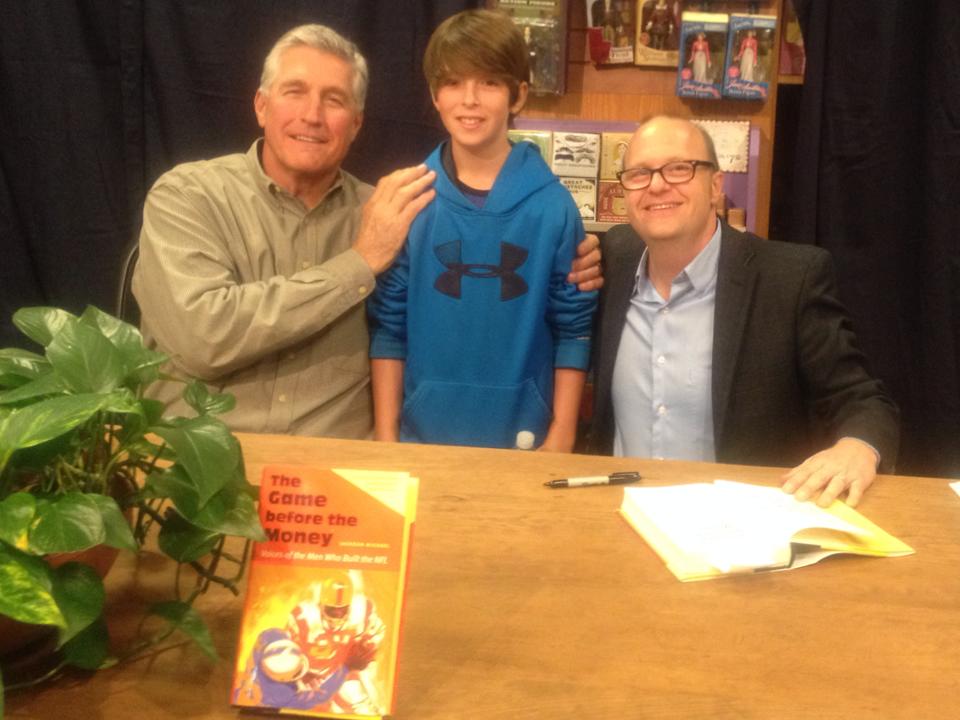 SUMMARY
The family members of two other players who interviewed for The Game before the Money were on hand, making the night extra special. The daughter of Tony Lorick and the granddaughter of Nolan Luhn both took part in the evening. Tony and Nolan have sadly both passed away and are noted in our "In Memoriam" section. Tony played fullback for the Baltimore Colts, sharing the huddle with Hall of Famers John Mackey, Johnny Unitas, Jim Parker, and Raymond Berry. Nolan played end opposite Don Hutson in Hutson's final season. Packers founder Curly Lambeau coached Nolan in Green Bay.
Two other The Game before the Money events are scheduled – one with Baylor star quarterback and 1961 AFL All-Star Game MVP More information can be found on our "Events" page. We hope to see you.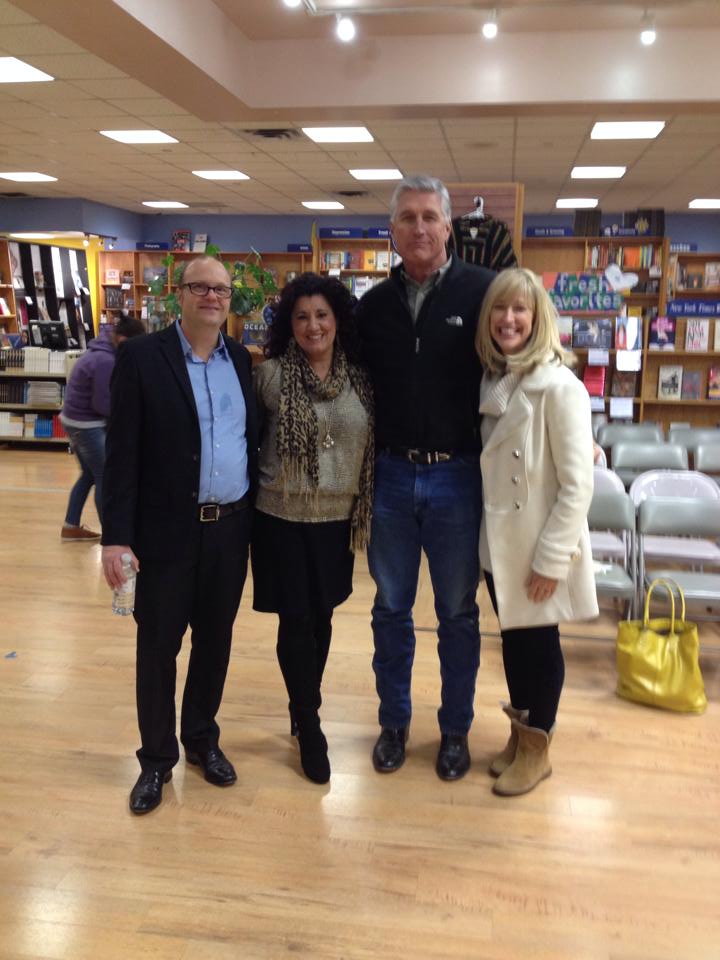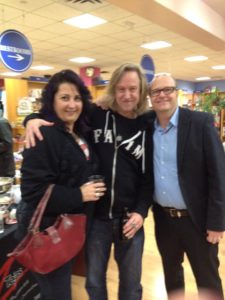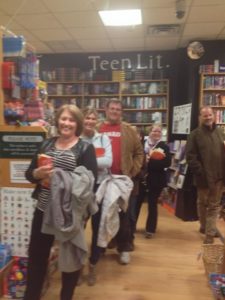 Earlier that day, I interviewed on Good Day Austin on KTBC Fox 7.
MyFoxAustin.com | KTBC Fox 7 | News, Weather, Sports
We'd like to thank Saint Arnold Brewing Company for providing amazing craft beer, and Z Tejas for providing delicious appetizers.