Johnny Lujack painting by Robert Hurst: www.ADamnFineArtist.com
SEVENTY YEARS AHEAD OF HIS TIME?
When people think of Johnny Lujack, they often think of Notre Dame, the Heisman Trophy, or his shoe-string tackle of Doc Blanchard in the original "Game of the Century" (watch below). The Irish lost only one game in the three years he started at quarterback, and Lujack led them to 3 national championships. Few football fans recognize his exceptional — albeit very short – pro career.

World War II interrupted Lujack's college career after the 1943 season, causing him to miss the '44 and '45 seasons. George Halas' Chicago Bears drafted Lujack in the first round of the 1946 NFL Draft, but Lujack elected to play out his eligibility at Notre Dame. "In those days you could be drafted on what the normal four years would have been," Lujack told The Game before the Money. "I entered Notre Dame in '42, so my graduation year would have been in '46. The Chicago Bears drafted me in the first round of the 1946 nfl draft, following my junior year, but I didn't even think about forgoing my senior year at Notre Dame." Lujack's choice paid off by winning the 1947 Heisman Trophy.
LUJACK'S PRO CAREER
Lujack starred at defensive back for the Bears in 1948. His 11 interceptions were third in the NFL that season, and he was named to the Chicago Herald-American's All-NFL team. The Bears didn't draft him to play defense, however. "That first year up, Bobby Layne was the quarterback," Lujack recalls. "They got rid of Layne, thinking I was going to take over, which I did." While Layne went on to have tremendous success and earn a spot in the Pro Football Hall of Fame, Lujack's accomplishments also stand out. Most football fans can tell you Norm Van Brocklin holds the single-game passing yardage record, but you might be hard pressed to find somebody that knows Lujack held the record previously. In fact, Lujack's 468 passing yards against the Chicago Cardinals still stands as a Bears team record. In 1949 he bested Layne and the rest of the league in passing yardage (2,658) and passing touchdowns (23). Lujack wasn't just a threat with his arm. The next year he set a league single-season record for rushing touchdowns with 11, and averaged over 6 yards per carry. His double-threat presence stands comparable to lauded talents like Cam Newton and Randall Cunningham, who Sports Illustrated called three decades ahead of his time. Using that logic, perhaps Lujack was 70 years ahead of his time.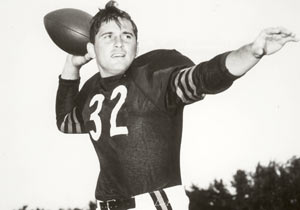 LEAVING ON HIS OWN TERMS
Pro football salaries were nothing like they are today, and past players' values and attitudes contrast with those of many of today's stars. Lujack retired after playing out the four years of his first contract, leaving what might have been a legendary career on the table. "I had the chance to become the quarterback coach at Notre Dame under [Head Coach Frank] Leahy's last two years, 1952 and 1953. I felt that was a good way to repay Notre Dame and Leahy for giving me a scholarship," Lujack states in the book.
SUMMARY
Where might Lujack fit in today's NFL? Newton was the top pick of the 2011 NFL Draft after winning the Heisman Trophy and national championship, and led the Panthers to a division title last year. Althetic quarterbacks Russell Wilson and Colin Kaepernick represented the NFC in the last 2 Super Bowls, and recent QBs Donovan McNabb and Michael Vick consistently led their teams to the playoffs. It's always difficult to compare players across different eras, but Lujack certainly could be considered a prototype to these modern stars.