In "QB Reality – Why Most Teams Stand No Chance," I pointed out that a small number of quarterbacks own the majority of championship rings. Today I'll tell you about an even grander elite class – the championship coaches club.
Of the first 30 Super Bowls, only 4 winning coaches won only one Super Bowl. Free Agency seemingly levels that statistic out at first glance — with the next 19 Super Bowls handing the Lombardi award to 11 one-time winners. Dig deeper, however, and you'll find that very few coaches even make the Big Game, let alone win it.  A total of 49 coaches have coached in the 49 Super Bowls, averaging one compounded appearance per game.
The vast majority of coaches who make a championship game make multiple appearances, or they played for or worked under one of those frequenting Super Bowl Sunday. When I say vast majority, I mean just about every single head coach. The trend dates back to when the Detroit Lions were the Portsmouth Spartans. Sounds crazy? We'll take a quick look in this post before fully submerging next week.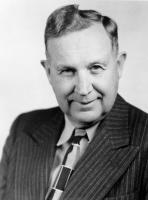 Potsy Clark coached the Portsmouth Spartans in the first NFL Championship Game.
Vince Lombardi's name symbolizes championship football. He won 5 championships in 7 years with the Green Bay Packers, leading them to 6 championship games in 8 years. Lombardi didn't just pop out of nowhere to land the Packers in championship games. Lombardi previously served as an assistant on the New York Giants, who won the NFL Championship in 1956, and made the NFL Championship Game in 1958. (And in 1959, Lombardi's first year with the Packers.)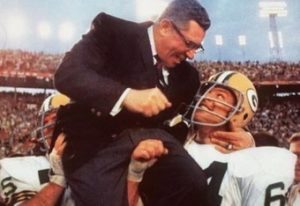 Lombardi on top of the world with Jerry Kramer and Forrest Gregg.
The Giants head coach was Jim Lee Howell, who won the NFL championship as a player in 1938 under the great Steve Owen. Owen's Giants earned 7 NFL Championship Game appearances, Howell's 3. Owen's playing career also included a title with the 1927 Giants. Tracing Lombardi's championship bloodlines date back to the league's first decade. Tom Landry's do likewise,  serving with Lombardi on the same Giants coaching staff.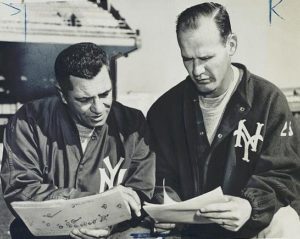 Lombardi and Landry with the Giants.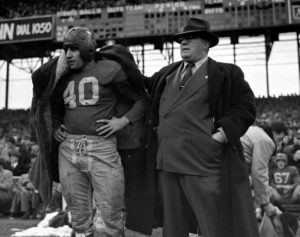 Steve Owen with Frank Filchock.
Turns out that nearly every single coach to win an NFL title – or even finish second – meets at least one of three criteria. The phenomenon dates back to the 1920s. In our next post we'll point out the criteria, go over NFL champions by decade, and demonstrate the resilient stranglehold a superior set of coaches have on NFL title games.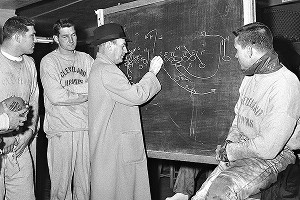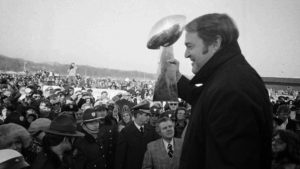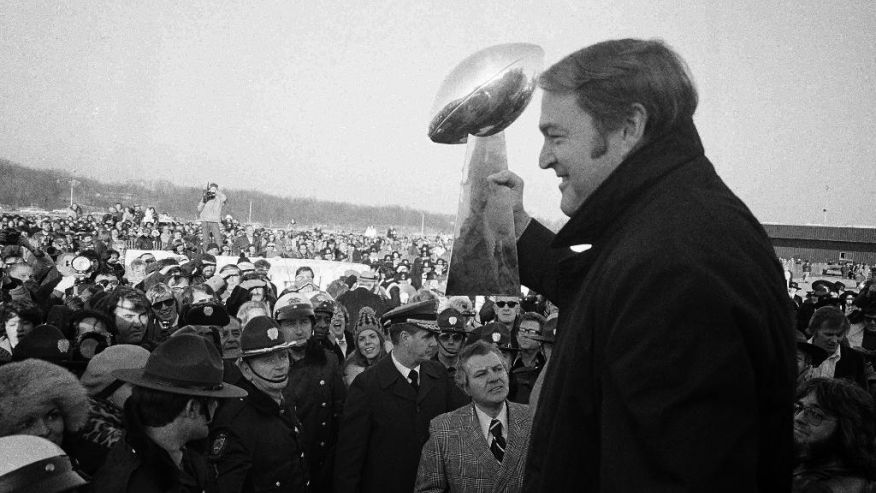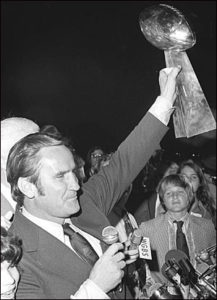 READ THE INSIDE STORIES OF SUPER BOWLS AND NFL CHAMPIONSHIPS FROM THE MEN WHO PLAYED THE GAME.
THE GAME BEFORE THE MONEY: VOICES OF THE MEN WHO BUILT THE NFL
AVAILABLE FROM AMAZON HERE (ALSO ON KINDLE)
AVAILABLE FROM BARNES AND NOBLE HERE (ALSO ON NOOK)
"Entertaining and Engrossing." — Library Journal