NOTE: This was originally updated after Super Bowl 48. You can view a related post before Super Bowl 54 here and listen to a related podcast episode created before Super Bowl 55 here.
UPDATED: Super Bowl 48 was a bit of an anomaly. Maybe. We'll see if Russell Wilson wins another Super Bowl, which he's already in position to do. Stark reality looms for teams without a quarterback sporting a championship ring: Out of nearly 50 Super Bowls, only 31 quarterbacks have won.
Of those 31 quarterbacks, 11 have won multiple Super Bowls. That equates to 28 of the 48 Super Bowls, roughly 60 percent of the games. The trend stays fairly steady through the Free Agency Era. Multi-winning quarterbacks have won 11 of the 21 contests, and only 15 quarterbacks won championships. Before Free Agency, 16 quarterbacks won those 27 SBs.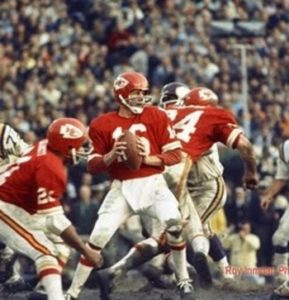 Dawson in Super Bowl 4.
Wilson and Joe Flacco won the last two, perhaps slightly bucking the trend. In the Super Bowl era, however, Super Bowls 3-5 were the only three straight SBs in which the winning quarterback didn't win multiple times on Super Bowl Sunday. Even that statistic's a stretch, as SB 5 was Johnny Unitas' third NFL championship, and SB 4 was Len Dawson's second title, including the 1962 AFL Championship. (NOTE: For simplicity, I counted the Unitas/Earl Morrall tandem as one winning QB.)
11 quarterbacks have won multiple Super Bowls. Terry Bradshaw and Joe Montana each won 4. Troy Aikman and Tom Brady, 3.  All of these men were clearly top-tier QBs of their day. Of the remaining 6 multi-winners, only Jim Plunkett and Eli Manning don't fall into the clearly elite class. Bart Starr, Roger Staubach, Bob Griese, and John Elway are indisputable legends. Ben Roethlisberger is close, certainly warranting serious Canton consideration.
A roll call of top single-time winners includes Joe Namath, Len Dawson, Ken Stabler, Steve Young, Brett Favre, Peyton Manning, Aaron Rodgers, and Drew Brees. All exceptional talents, and high above the majority of their peers. Add those 8 with the multiple winners, and you've got 19 of the 31 Super Bowl winning QBs. Moreover, it's 75% percent of the games (36 of the 48 Super Bowls),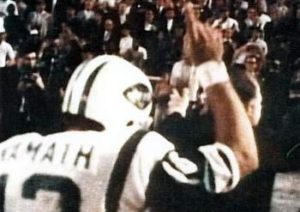 Namath giving the only finger that matters after SB 3.
Incredibly, the trend holds true dating back to the 1940s. Only three championship quarterbacks – Frank Ryan (64 Browns), Billy Wade (63 Bears), and Doug Heinrich (56 Giants) won only one championship in post single-wing times.
All other championships were won by multiple-winning quarterbacks. Excluding the 1944 Championship which featured tailbacks rather than quarterbacks, 22 of the 25 NFL champions from 1940-1966 featured multi-championship winning quarterbacks. (Note: Bob Waterfield and Norm Van Brocklin both saw action for the 1951 Rams. Waterfield started the championship game; Van Brocklin threw the winning touchdown. Both won individually only once. Waterfield with the 1945 Rams; Van Brocklin with the 1960 Eagles.)
All of the American Football League championships before the merger were won by multi-winning QBs. George Blanda won the first two before Dawson beat Blanda in the 1962 title game. Tobin Rote quarterbacked the 1963 Chargers after doing likewise for the 1957 Detroit Lions. Jack Kemp won the last two with the Buffalo Bills the final two years before the merger. The Cleveland Browns won every AAFC championship, guided by Otto Graham. Graham also led the Browns to 3 NFL Championships.
It gets more disconcerting if you have a low-grade quarterback running your team. Most one-time winning quarterbacks beat forgettable quarterbacks in championship games. Trent Dilfer beat Kerry Collins. Doug Heinrich beat a man named Ed Brown. Rarely does a quarterback below the golden grade win over a top-tier QB for a championship. There are a few exceptions, such as Doug Williams topping John Elway, and Frank Ryan getting the better of Johnny Unitas. Williams' and Ryan's defenses, however, gave up a combined total of 10 points in those games.
The tide may be turning, as 7 quarterbacks have won the last 10 Super Bowls. But again, only 15 quarterbacks have won Super Bowls in the Free Agency Era, and this year's Patriots/Seahawks matchup follows the trend.
If you add the 1940 – 1966 era to that to the Super Bowl Era, 50 of 72 championships were won by quarterbacks who won at least one more championship. Only 43 quarterbacks have won a championship since 1940 (Unitas/Morrall both given credit for SB 5.)
ORDER  THE GAME BEFORE THE MONEY FROM AMAZON HERE! (ALSO ON KINDLE!)
ORDER THE GAME BEFORE THE MONEY FROM BARNES AND NOBLE HERE! (ALSO ON NOOK!)