Stories of Paul Hornung's lifestyle often overshadow those of his football career. Many question how he won the Heisman Trophy on a 2-8 Notre Dame team. One blogger even wrote an exhausting article questioning Hornung's Hall of Fame credentials. The "Golden Boy" might not live up to the standards of bloggers who never saw him play, but Vince Lombardi and Hornung's teammates declared him essential.
COLLEGIATE CAREER
Hornung grew up in Louisville, Kentucky. Bear Bryant made a strong pitch for Paul to attend Kentucky, but Hornung's Catholic upbringing gave Notre Dame the edge. Legendary coach Frank Leahy left after Hornung's freshman year and Hornung never played for the coach who recruited him.
The Irish finished with the worst record in school history Hornung's senior year. Many games must have seemed like it was 11 on 1. "I played every down in college. I led Notre Dame in rushing, passing, punt returns, and kickoff returns. I kicked off and punted. On defense I was second in tackles and first in interceptions," he said. Moreover, Hornung led the Irish in touchdowns, and scored every point in their 21-14 win against North Carolina.
Imagine Tim Tebow leading the Florida Gators in 7 total offensive and defensive categories, while finishing 2nd nationally in kickoff returns. Stats like this earned Hornung the 1956 Heisman Trophy, and prompted the Heisman's official website to proclaim him, "probably the greatest all-around player in Notre Dame's history." Iconic sportswriter Dick Schaap added, "In 1956 Notre Dame had a football team named Hornung. He passed. He tackled. He intercepted passes. Surrounded by the walking wounded, playing for a team crippled by injuries, Hornung was the whole show."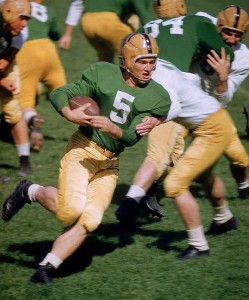 PRO CAREER
From 1947-1958, the first-overall pick of the NFL Draft was the "bonus pick." Hornung explains in The Game before the Money: "Each team put their name in a hat, and you drew them out. Fourteen teams; here comes the bonus pick. After that, the draft starts in predetermined order: 1, 2, 3, 4. Next year, the thirteen remaining teams were eligible for the bonus pick. Pick a team out—they got the first [bonus] pick. I was the first pick of the 1957 draft."
It's interesting to learn why the bonus pick was eliminated, and to compare that reasoning to modern times. In the 1950s, Congress investigated the NFL and professional sports for violating anti-trust laws.  Congress told the NFL that the bonus pick bordered on an illegal lottery, and the NFL abolished the practice. The bonus pick was similar to today's NBA Draft Lottery, considered completely acceptable in modern times.
The Packers floundered for Paul's first two seasons, and Hornung floundered with them. He scored a mere 5 touchdowns and rushed for barely over 600 yards total in those two seasons. He bounced from halfback to quarterback to bench, never finding a permanent position.
Vince Lombardi turned Hornung's career around. Lombardi, a former offensive coach for the New York Giants, appreciated all-around players, and thought he could use Hornung like he used Frank Gifford in the Giants offense.
Paul delivered in championship fashion. He won three consecutive NFL scoring titles, a feat which hasn't been matched since. (Note: Stephen Gostkowski has a chance to do so in 2014.) Hornung's 176 points in 1960 was a record that stood for 46 years. Think about that – his scoring record held up longer than both Babe Ruth's and Roger Maris' single-season home run records. Moreover, Hornung amassed his total in a 12-game season. LaDainian Tomlinson scored 186 points in a 16-game season, and is the only player in NFL history to eclipse Hornung's mark. A current player would need to score over 236 points to best Hornung's 14.7 points per game. A few NBA teams would probably like to get 14.7 PPG out of their players.
Hornung not only served the Packers, he served his country. Hornung missed 2 games in 1961 while stationed at Fort Riley, Kansas. President Kennedy arranged a furlough for Paul to play in the 1961 NFL Championship. ""Paul Hornung isn't going to win the war on Sunday, but the football fans of this country deserve the two best teams on the field that day," Kennedy said. Packer receiver Boyd Dowler also received a furlough to play that day.
The Packers routed the New York Giants 37-0 for their first of two consecutive championships. Hornung scored 19 points, still a record for an NFL Championship. In Michael O'Brien's Vince, Hall of Fame teammate Henry Jordan commented on Paul importance to the Packers: "When Paul got that leave from the Army and walked into that locker room, you could just feel the confidence grow in that room."
SUMMARY
Paul Hornung isn't some magical being without flaws. NFL Commissioner Pete Rozelle suspended him and Alex Karras an entire season for gambling. He unabashedly chased women. He consistently broke curfew.
He was, however, magical on the field. He scored 5 touchdowns in one game, three rushing and two receiving. He had 14 multi-touchdown games in a 9-year career cut short by a pinched nerve. Hornung also occasionally threw touchdown passes, including 2 in his epic 1960 season.
Paul Hornung — a legend both on and off the field.
NOTE: Two Paul Hornung quotes from The Game before the Money: Voices of the Men Who Built the NFL are included in this article. Read Paul's story and those of over three dozen other NFL legends here. Another great read on Hornung is That First Season by John Eisenberg, which chronicles Vince Lombardi's first season with the Packers.