Paul Hornung's nickname was "The Golden Boy." He was one of the NFL's most famous players in his day. He set an NFL single-season point total record that stood for decades. He won the 1956 Heisman Trophy and was the first pick in the 1957 NFL Draft.
PAUL HORNUNG'S COLLEGE CAREER
Hornung grew up in Louisville, Kentucky. Coach Bear Bryant made a strong pitch for Paul to attend Kentucky, but Hornung's Catholic upbringing gave Notre Dame the edge. Norte Dame coaching legend Frank Leahy left after Hornung's freshman year and Hornung never played for the coach who recruited him. NCAA rules prohibited freshman from playing college football except under very rare circumstances.
The Irish finished with the worst record in school history Hornung's senior year. Many games must have seemed like it was 11 on 1 – with Hornung being the 1. He is quoted in the football history book, The Game before the Money: "I played every down in college. I led Notre Dame in rushing, passing, punt returns, and kickoff returns. I kicked off and punted. On defense I was second in tackles and first in interceptions," he said.
Moreover, Hornung led the Irish in touchdowns, and scored every point in their 21-14 win against North Carolina.
Paul Hornung led Notre Dame in 7 total offensive and defensive categories and finished 2nd nationally in kickoff returns. Stats like this earned Hornung the 1956 Heisman Trophy, and prompted the Heisman's official website to proclaim him, "probably the greatest all-around player in Notre Dame's history."
Iconic sportswriter Dick Schaap added, "In 1956 Notre Dame had a football team named Hornung. He passed. He tackled. He intercepted passes. Surrounded by the walking wounded, playing for a team crippled by injuries, Hornung was the whole show."
Notre Dame finished 2-8 in 1956. As of the end of the 2019 college football season, Paul Hornung is the only player to win the Heisman Trophy on a team with a losing record. Notre Dame's 2-8 record and .200 winning percentage remains tied as the worst in school history with the 1960 season.
PAUL HORNUNG AND THE GREEN BAY PACKERS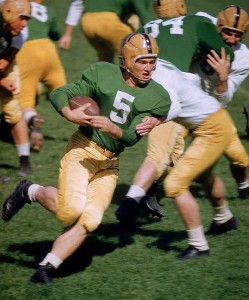 PAUL HORNUNG'S PRO CAREER
From 1947-1958, the first-overall pick of the NFL Draft was the "bonus pick." The process was like today's NBA Draft Lottery, although every team was eligible to win the bonus pick in 1947. Once a team won, they weren't eligible to win the "NFL bonus pick" in future drafts. The lucky winning team ended up with two first-round draft choices – the first-overall choice and their regularly schedule first-round pick.
The Green Bay Packers won the NFL "bonus pick" for the 1957 NFL Draft. They selected Paul Hornung.
The Packers floundered for Paul's first two seasons. Hornung scored a mere 5 touchdowns and rushed for barely over 600 yards total in those two seasons. He bounced from halfback to quarterback to bench, never finding a permanent position.
Vince Lombardi turned Hornung's career around. Lombardi, a former offensive coach for the New York Giants, appreciated all-around players. Lombardi thought he could use Hornung like he used Frank Gifford in the Giants offense.
Paul delivered in championship fashion. He won three consecutive NFL scoring titles, starting in 1959. Hornung's 176 points in 1960 was a record that stood for 46 years.
Hornung not only served the Packers, he served his country. Hornung missed 2 games in 1961 while stationed at Fort Riley, Kansas. President Kennedy arranged a furlough for Paul to play in the 1961 NFL Championship. "Paul Hornung isn't going to win the war on Sunday, but the football fans of this country deserve the two best teams on the field that day," Kennedy said.
Packer receiver Boyd Dowler also received a furlough to play that day.
The Packers routed the New York Giants 37-0 for their first of two consecutive NFL championships. Hornung scored 19 points a record that stood for over 50 years as most points in an NFL Championship Game until the Patriots James White scored 20 points in Super Bowl 51.
Paul Hornung seemed to save his best for championship games. He racked up 105 yards rushing and scored a touchdown on Lambeau Field's muddy surface in the 1965 NFL Championship, leading the Packers to a 23-12 win over the Cleveland Browns.
He scored the Packers only touchdown the previous week in a playoff win over the Baltimore Colts.
PAUL HORNUNG'S LEGACY
Paul Hornung isn't some magical being without flaws. NFL Commissioner Pete Rozelle suspended him and Alex Karras for an entire season for gambling. In an ESPN Classic SportsCentury episode, Hornung said he told Vince Lombardi that he'd rather be a playboy than a football player if forced to choose.
Hornung was, however, magical on the field. He scored 5 touchdowns in one game, three rushing and two receiving. He had 14 multi-touchdown games in a 9-year career cut short by a pinched nerve. Hornung also occasionally threw touchdown passes, including 2 in his epic 1960 season. He also completed a pass to Boyd Dowler in the 1962 NFL Championship Game. In college, Hornung scored over half of Notre Dame's points in 1956 and is the only player who won the Heisman Trophy playing for a losing team.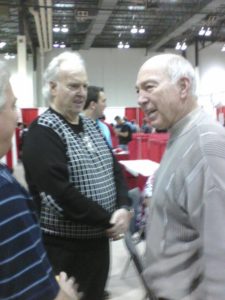 Hornung's final NFL season was 1966. He missed several games that year due to injury. Although Paul Hornung's legacy is rightfully tied to Vince Lombardi's great Packer teams of the 1960s featuring Bart Starr at quarterback, he wasn't a part of some of that team's most famous games. He didn't play in Super Bowl 1.
The 1967 NFL Championship Game, famously known as the Ice Bowl, was played the season after Hornung retired.
PAUL HORNUNG NFL STATS AND BIO
• 1961 NFL Most Valuable Player (and 1961 Bert Bell Award winner)
• Most Touchdowns in NFL, 1960 season
• 1956 Heisman Trophy Winner
• 1986 Pro Football Hall of Fame Class (with Ken Houston, Willie Lanier, Fran Tarkenton, and Doak Walker)
• Titletown Five, a horse co-owned by Hornung and Packers teammate Willie Davis, ran in the 2013 Preakness Stakes
NOTE: Two Paul Hornung quotes from The Game before the Money: Voices of the Men Who Built the NFL are included in this article. Read Paul's story and those of over three dozen other NFL legends here.