The Game before the Money: Voices of the Men Who Built the NFL introduced me to dozens of former NFL players. Many interviewed for the book, and I became acquainted with several others. Knowing that, people often ask me about concussions and the potential consequences of playing in the NFL. As stated in the book's Afterword, the seriousness of some situations is quite real.
Much of the book covers players' golden moments, so I'm not claiming to be an expert. I have no medical experience, and I'm in no position to make claims or suggest solutions. My objective here is to discuss what I've personally seen and heard, and to inform readers about a couple of websites retired players frequent for information. This post isn't meant to induce controversy.
I discussed head injuries with several players. Buddy Lex, the man who set the NCAA single-season touchdown pass record in 1949, spoke about his college teammate Lou Creekmur in The Game before the Money: "In his final years he had dementia. I guarantee you it was from banging heads, from high school to college to eight years in the pros. It's bound to have an effect."
CTE
Creekmur, a Pro Football Hall of Fame inductee, was posthumously diagnosed with chronic traumatic encephalopathy (CTE) by the Boston University School of Medicine. CTE is a degenerative brain disease linked to repeated head trauma. Pittsburgh Steeler Mike Webster was the first player diagnosed with the illness. Other NFL legends diagnosed with the disease include Ollie Matson, Cookie Gilchrist, and Wally Hilgenberg. More recently, ESPN reported that Jovan Belcher, the Kansas City Chief who shot his girlfriend and himself in 2013, showed signs of CTE on his autopsy report. PBS' Frontline noted that 80% of deceased high school, college, and professional football players who underwent posthumous brain examinations for a particular study tested positive for CTE.
TODAY'S BRAIN INJURY ISSUES
Hall of Famer Jack Youngblood prioritizes the brain injury issue with his Center for NeuroEnhancement. When I asked him about brain injuries he said, "We didn't know that we were going to have this kind of reaction to the contact that we had. There were symptoms when you got out of the game and later in life, but you didn't connect it back to the cause. Now we have. We understand that multiple blows to the head cause problems."
I will keep names confidential because of privacy reasons and HIPAA law, but such problems were evident in a few players I engaged with along the way. I telephoned one player, hoping for an interview. His wife told me he didn't remember playing. One player I spoke with briefly remembered playing, but couldn't recall certain historic games he played in. A third I've become acquainted with often needs to be reminded of what we are discussing in the middle of a conversation. In attempting to contact another very well-known player, I heard that he had difficulty remembering how to open a car door. I decided to forgo contacting him.
CONCUSSIONS
Much like with CTE now, apparently little was known about concussions in football's early days. The phrase, "It's just a dinger" was repeated often on the sidelines. Garland Boyette said one doctor confided that concussions weren't covered much at his medical school. Elvin Bethea said, "We played with concussions; we had no idea what a con­cussion was."
Lacking knowledge, players commonly took the field with concussions. Elvin, Walt Garrison, Conrad Dobler, and Sonny Jurgensen are a few of the players who describe their experience playing with concussions in The Game before the Money. A concussion isn't like a torn ACL, where physical complications are immediately obvious, and potential costs of playing are clear. Brain injuries, to this day, are subtle and often not well understood.
HELMETS
Helmets create the only line of defense against head injuries. Plastic helmets, when first introduced, weren't effective. Hall of Famer Charley Trippi notes in the book: "Ball players were getting concussions, and they had to make improvements in the original plastic helmets." Indeed, the NFL temporarily banned plastic helmets in 1948.
Below are helmets Elvin Bethea wore (one is also pictured above this article). Walt Garrison  showed me a few of his helmets as well. From these helmets, one could surmise that there were numerous variations of protective headgear. Note that Elvin's helmet on the left is supported with cloth straps, the one on the right is padded with hard foam and rubber. One of Walt's contains compartments to be filled with water. Many of you might remember Mark Kelso's enormous helmet he wore with the Buffalo Bills in the 1980s.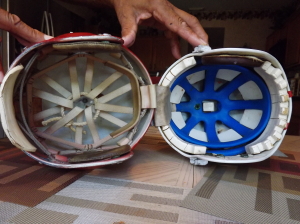 Several players tagged the helmet's facemask a brain-injury culprit. Sonny Jurgensen noted, "(The facemask originally) was there for protection, for your mouth and nose. It's changed into a cage on the helmet. Unfortunately it's turned into a weapon, and the cage becoming a weapon has facilitated concussions." A number of players I spoke with alluded to removing facemasks as a potential step toward solutions.
SUMMARY
While I did encounter players experiencing extreme mental difficulties, most players seemed to possess normal mental faculties for men their age. Many seemed to exceed it. They happily recounted great game moments and highlights from their life and career. Clearly, however, current research suggests that NFL players are at much greater risk for dementia and other brain diseases than the general population.
I learned of two player-owned websites providing information to former NFL players. There are likely others, but former Raider Dave Pear's blog (www.DavePear.com) and former Colt Bruce Laird's site (www.FourthAndGoalUnites.org) are two which convey information from retired players to retired players. These sites contain several comment threads between players you might remember. I found it very interesting reading these discussions in regards to brain injuries, the current lawsuits, and other retired player concerns.
Dave Pear career stats.
Bruce Laird career stats.